Retina display MacBook Pros to be unveilled at WWDC?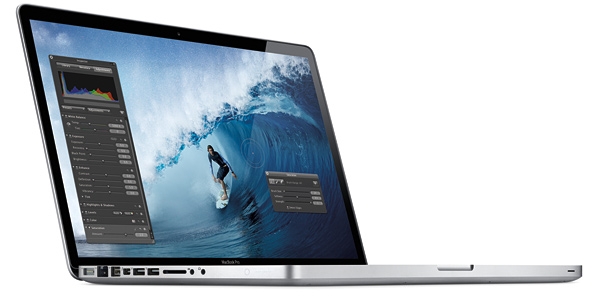 According to a Bloomberg report, Apple will release new MacBook Pros at next month's WWDC in San Francisco. In line with previous rumours, the next-generation machines are said to feature Retina displays, have Intel's new Ivy Bridge processors, and are thinner than the ones currently on offer.
Bloomberg:
Apple Inc. (AAPL) is preparing a new lineup of thinner MacBook laptops running on more powerful chips made by Intel Corp. (INTC), people with knowledge of the plans said.

The MacBook Pro machines, to be unveiled at Apple's annual developers conference starting June 11, also will feature high- definition screens like those on the iPhone and iPad, as well as flash memory to cut startup times and extend battery life, said the people, who asked not to be identified because the plans haven't been made public.
Reports from The Verge and ABC News describe new MacBook Pros with slimmer designs, retina displays, and Intel's latest chips too. But in addition, they both claim Apple will switch from AMD to Nvidia graphics chips in the new machines.
A report from 9to5Mac also mentions the possibility of Nvidia graphics being used in the new Macs, after references to a GeForce GT 650M graphics card were spotted in OS X beta code. Additionally, 9to5Mac make an interesting claim regarding the rumoured slim design:
As the MacBook Air pioneered, and the latest Mac mini models have followed, the new 15-inch MacBook Pro loses the optical drive in order to reach Apple's new standard for notebook thinness.
These latest rumours follow the discovery of what are thought to be Geekbench results for unreleased MacBook Pro and iMac models. Both results feature new model identifiers and the listed specifications include Ivy Bridge processors.
If the reports turn out to be true, will you be buying a new MacBook Pro?