Adobe release Photoshop & Premiere Elements 10 on Mac App Store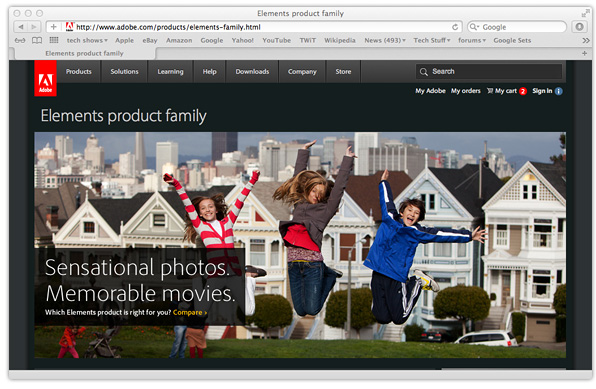 Adobe have today released special 'editor' versions of its consumer-focused photo & video editing software – Photoshop Elements 10 and Premiere Elements 10 on the Mac App Store. Costing £54.99 each, the titles are individually cheaper than those offered directly from Adobe, but lack some of the features from the standard editions.
So what features are missing from the App Store editions? Neither titles come with Elements Organizer, the reason for this, Adobe explains, is that:
"Photoshop Elements Editor and Elements Organizer are two separate applications with individual installers. Mac App Store policy requires that any applications available for download and purchase include only a single executable file."
Adobe goes onto explain that iPhoto, which many Mac users already have, has many of the same functions as Organizer. The other missing features are support for case-sensitive HFS volumes, and the lack of Smartsound capability in Premiere.
"Turn everyday memories into sensational photos, with a powerful yet easy-to use Phot Editor from the creators of the industry-standard Adobe Photoshop software. Best-selling, award winning, for 10 years! Works great with iPhoto when you're ready to go beyond the basics."
"Turn your video clips into memorable movies, with the award-winning Video Editor from the creators of industry-standard Adobe Photoshop and Adobe Premiere Pro software."
One important thing to note for anyone considering buying both titles – while the new editor versions are individually cheaper on the Mac App Store, you can buy both the standard editions in a bundle outside of the App Store for slightly less – here in the UK amazon are currently charging £93.49.
[Via AppleInsider]