Adobe announces Creative Suite 6 alongside Creative Cloud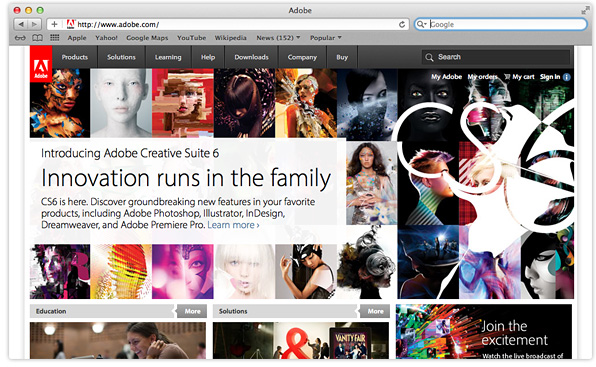 Adobe has announced what it describes as a "landmark release" of its flagship editing products for design and web professionals today in the form of Creative Suite 6. In addition to Photoshop CS6, which has been available as a public beta since last month, the release features 13 applications that all deliver "a ton of innovation."
Like past Creative Suite releases, users will have the option to purchase each application individually or they can choose from a number of bundles that feature several applications alongside one another. The cheapest bundle is the Design Standard collection, which is priced at £1,238 ($1,299) and includes Photoshop, InDesign, Illustrator, and Acrobat X Pro.
There's also two bundles priced at £1,811 ($1,899), one of which is called Design & Web Premium and the other Production Premium. The first includes Photoshop Extended, Illustrator, InDesign, Flash Professional, Fireworks, Dreamweaver, and Acrobat X Pro; while the other features Premiere Pro, After Effects, Audition, Flash Professional, Illustrator, Photoshop Extended, Prelude, and SpeedGrade.
Finally, you can purchase all 14 applications in the Master Collection which is priced at £2,668 ($2,599).
But that's not all. Adobe has also launched a new product called Creative Cloud, which is a £47 ($50) monthly subscription service that Adobe describes as "a hub for making, sharing, and delivering creative work, and a radical new way of providing tools and services that will change the game for creatives worldwide." With a Creative Cloud subscription, you can save and sync your work in a cloud-based locker and access it from anywhere.
David Wadhwani, senior vice president of Adobe's Digital Media Business, believes the company's latest products shows it is "laser-focused" on ensuring professionals have all they need to produce high-impact content:
"Creatives get a ton of innovation across CS6, with milestone releases of all our flagship products. With CS6 and Creative Cloud, we're also introducing new products, new mobile workflows and advanced publishing capabilities that show we are laser-focused on ensuring design, Web and video pros have everything they need for the delivery of high-impact content and apps."
You can order Creative Suite 6 and Creative Cloud from Adobe's website today.