13-inch Retina MacBook Pro appears in benchmarks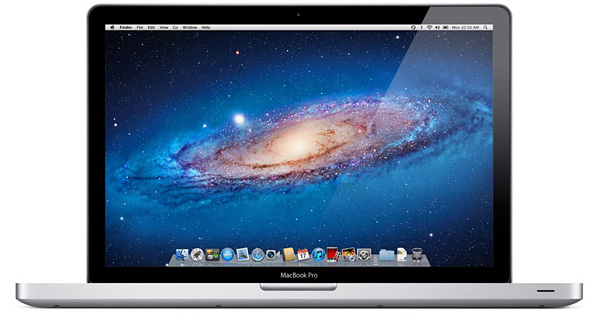 When Apple introduced the 15-inch MacBook Pro with Retina display back in early June, the first question on everyone's lips was "when will the rest of the MacBook lineup get one?" Recent rumors have claimed that the 13-inch MacBook Pro is next in line to get a high-resolution display, and that speculation has been backed up by GeekBench 2 benchmarks that appeared late last month.
The 13-inch model comes with the "MacBookPro10,2" codename, a slight change from its predecessor, which boasts the "MacBookPro9,2" model number. This is the same naming system used for the 15-inch device: The new model is labelled "MacBookPro10,1" while the old one is "MacBookPro9,1."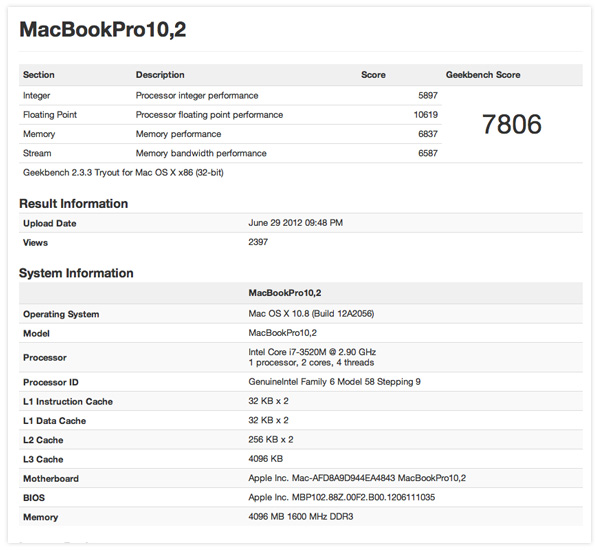 Of course, it is possible that this model number was modified by the machine's owner, but as MacRumors notes, the specifications that appear alongside it are exactly what we expect from the new machine. It packs a 2.9GHz Intel Core i7-3520M processor — the same chip in the existing (non-Retina) high-end 13-inch MacBook Pro — and it's running build 12A2056 of OS X Mountain Lion, "with the four-digit build number suffix frequently being used on Apple's custom operating system builds," according to MacRumors.
In addition to this, the motherboard identifier of the new machine, "AFD8A9D944EA4843," was reportedly spotted in early builds of Mountain Lion, and at the time there was a lot of speculation regarding which Mac the identifier would pair up with.
But there is one inconsistency: The machine in these benchmarks only features 4GB of RAM, whereas the MacBook Pro paired with the 2.9GHz processor comes with 8GB of RAM as default. Having said that, we shouldn't expect prototype machines to mirror those that are already shipping.
Of course, this isn't proof of Apple's future plans, and even if it is a genuine prototype, there's no guarantee that prototype will ever leave Cupertino. However, a 13-inch Retina MacBook Pro certainly looks likely at some point.