Watch a collection of Apple Christmas TV adverts from over the years, including one from 1981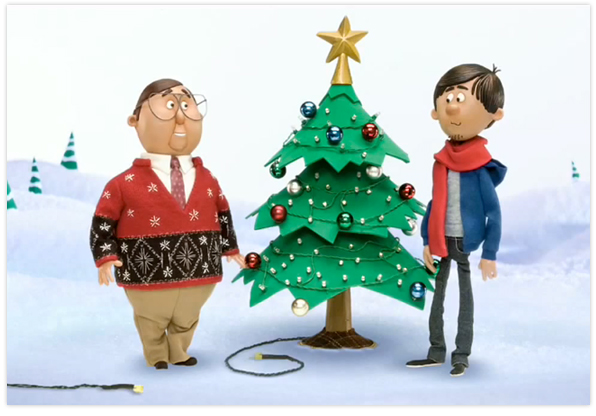 The release of Apple's latest Christmas-themed TV advert earlier this week, got me thinking about the company's previous festive campaigns. So, having spent a couple of hours trawling YouTube, I managed to find a total of thirteen, with the earliest being an Apple II commercial from around 1981. Each one has been embedded for your viewing pleasure – enjoy!
1981: Apple II
Santa reveals that the Apple II is the hot gift this year.
1994: Macintosh "Nightmare before Christmas" (long)
A couple struggling to set up a PC the night before Christmas eventually realise that they got the wrong kind of computer.
1994: Macintosh "Nightmare before Christmas" (short)
The couple should have got a Macintosh instead of a PC.
2002: Switch "Santa and The Lawyers"
Santa, played by Will Ferrell, admits to switching from PC to Mac.
2002: iPod "Santa's iPod"
Santa, again played by Will Ferrell, reveals what songs are on his iPod
2006: Get a Mac "Gift Exchange"
Mac gives PC a photo book created with a few clicks in iPhoto, PC gives Mac a C++ GUI Programming Guide.
2006: Get a Mac "Goodwill"
Christmas might me the season of goodwill to all men, but PC can't resist having a few digs at Mac.
2007: Get a Mac "Santa Claus"
PC changes the words to a popular Christmas song
2008: Get a Mac "Tree Trimming"
Mac & PC try to set aside their disagreements whilst decorating a Christmas tree.
2008: Get a Mac "I Can Do Anything"
PC has an "accident" with a snowman and a furry Apple fan
2009: iPhone 3GS "12 Days of Christmas"
On the 12th day of Christmas my iPhone 3GS gave to me…
2010: iPhone 4 "Under The Covers"
A young boy talks to "Santa" via FaceTime on the iPhone 4.
2011: iPhone 4S "Santa"
Santa Claus uses Siri on the iPhone 4S to plan the busiest night of his year
If you spot any other Apple Christmas TV adverts on YouTube, please let me know, and I'll add them to this post.