Video shows what the iPhone 5's taller 4-inch display could look like in action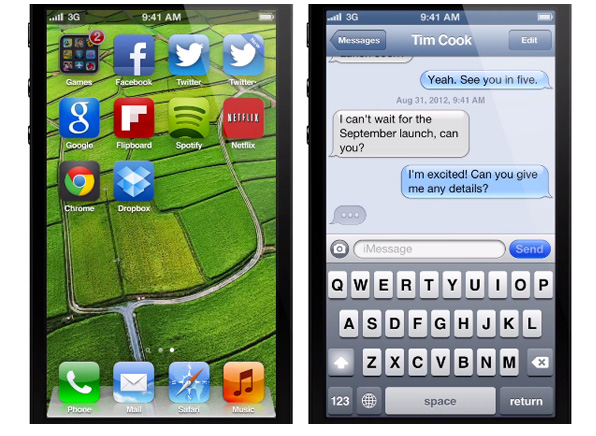 When Apple unveils its iPhone 5 next month, one of the biggest changes we're expecting is a larger 4-inch display. Sure, it'll probably have a faster processor, maybe a better camera, and possibly even 4G connectivity. But the biggest change for most of us will be the display – this video shows what it could be like to run iOS on it.
Created by MacRumors, this demonstration clip almost looks like it was produced by Apple itself. It's based on a device with a 4-inch display, with a resolution of 1136 x 640 pixels. That extra space means significant changes to every element of the user interface, from the home screen to apps, games, and playing video.
As the video demonstrates, the home screen would be capable of displaying six rows of apps as opposed to just five, and there would be more room to display open folders, which means you should be able to cram more apps into those folders (finally!).
In addition to this, MacRumors predicts future apps and games will become taller/wider to accommodate the larger screen. This is where things get really exciting. It means you'll be able to play widescreen games and movies like those shown in the video, whereas apps like Twitter and Messages have more room to display more information.
The demonstration suggests that older apps, which haven't yet been updated to support the larger display, will be "letterboxed" to run inside a smaller window – kind of like when you run iPhone apps on an iPad. The new 1136 x 640 resolution means a 16:9 aspect ratio – the same as that found on widescreen monitors and televisions – which means movies and TV shows should support the next-generation iPhone's display as standard.
MacRumors notes that some of the features and designs in this video are purely speculative, and that Apple's actual execution may differ somewhat. However, we get the feeling this is a pretty accurate portrayal of what iOS on the iPhone 5 will be like. And we can't wait for it.