Updated Geekbench results show iPhone 5's CPU is faster than first thought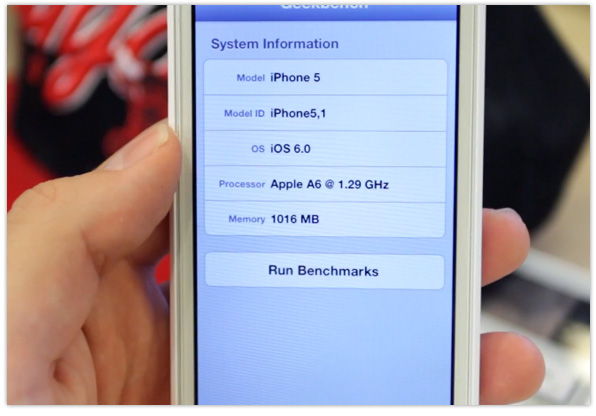 Shortly after Apple announced the iPhone 5 on September 12, Geekbench benchmarks for the device started making their way around the web. They revealed that the handset's new A6 processor was a 1GHz dual-core chip, an improvement over the 800MHz A5 chip packed into the iPhone 4S. As it turns out, it's actually even faster than that.
The Geekbench 2 app for iPhone was updated on Tuesday, introducing "improved iPhone 5 hardware detection." Since then, Geekbench specifications for Apple's latest handset have improved. Rather than listing a 1.0GHz processor, it lists a 1.29GHz processor, which is quite a difference in speed.
But 9to5Mac, via TLDToday, reports that the A6 processor may actually be more intelligent than some smartphone processors, with the ability to "up-clock" and downclock its speed when necessary.
For example, during processor intensive tasks, it has the ability to reach speeds of 1.3GHz, but while it's sat on your desk in standby mode, it will downlock all the way to just 600MHz.
That's fantastic, because what it means is your iPhone 5 is powerful enough to run console-quality games and quickly switch back and forth between multiple apps without stuttering, but while it's not in use, the processor isn't eating away at your battery life unnecessarily.