Unusual iBook Clamshell for sale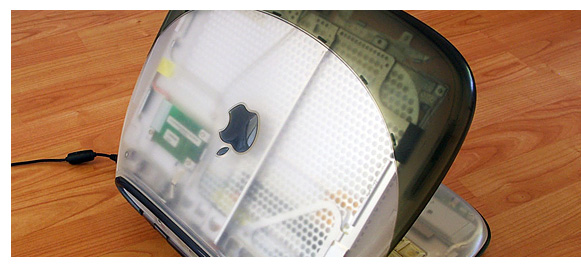 Although it's design is not universally loved (some people liken it to a toilet seat), I've always been a fan of the iBook Clamshell. Released on the 21st of July 1999, it was the first mainstream computer to feature wireless networking. I'm always on the lookout for pristine versions on eBay, which is how I discovered this unusual example.
What separates this iBook Clamshell from the original model, is that the normally opaque graphite & white casing has been replaced with what appears to be a custom transparent version – allowing the Clamshell's innards to be on display. An added bonus is that the light from the display makes the lid glow when the iBook is running!
The only thing I'm not so keen on is the yellow looking keyboard, though it wouldn't be too difficult to replace it with an original opaque white version.
If you fancy snapping up this one of a kind iBook Clamshell make sure you get your bid in before the auction ends on the 15th of May, 2011.