This iPhone 5 concept makes us drool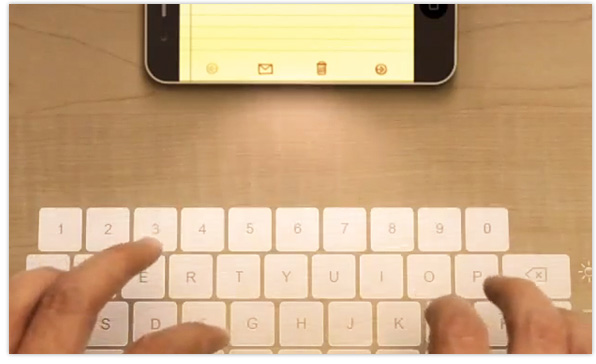 There's a number of features we expect to see introduced to Apple's iPhone 5, such as an 8-megapixel camera, near-field communications technology, and possibly a dual-LED flash. But never in my wildest dreams did I imagine it would come with a 'laser keyboard' and a 'holographic display'.
However, the guys at San Francisco design house Aatma Studio did. In this concept video, we see a beautifully 'ultra thin' iPhone that actually looks too thin to be plausible; no thinner than a Ryvita cracker bread. It features an edge-to-edge display, and two – yes, two! – front-facing cameras.
But after seeing the device itself, things get even more fascinating when we take a look at two of its most impressive features. Firstly there's the 'laser keyboard', which allows you to sit your iPhone down and have a light-based keyboard projected out onto your desk so that all you have to do to type is tap the surface. This isn't such a farfetched feature – you can actually buy devices that project a keyboard onto your desk for your PC – but I can't see it making its way to the iPhone. At least not with the iPhone 5 anyway.
And then there's the 'holographic display', which looks like something from a science fiction film. This feature allows you to place your iPhone on a flat surface and project a 2D hologram of the display in mid-air. So instead of watching films on your iPhone's tiny screen, you can project them onto the air in front of you.
While these features are a little far-fetched, you can't deny that they're also incredibly cool. Watch the video above and tell me you wouldn't like to see a laser keyboard and a holographic display in your iPhone.
[Via Cult of Mac]