SlideWriter turns iPad user's typing concept into a reality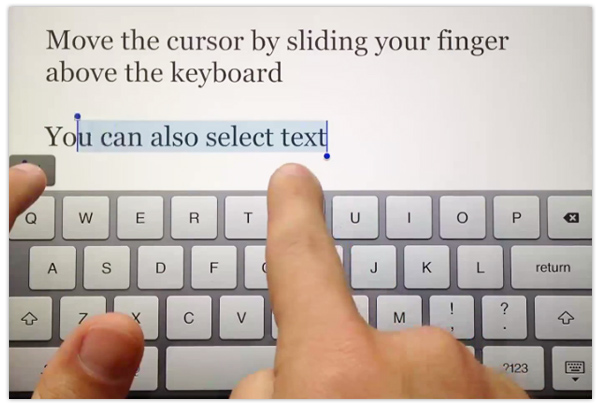 If you visit technology blogs – particularly those dedicated to Apple – on a regular basis, you've probably already heard about the innovative text editing concept designed for the iPad by Daniel Chase Hooper, which has been circulating since late last week. It has been so popular that it has already been turned into a jailbreak tweak, and now it's coming to the App Store.
If you're unfamiliar with the concept, it's really quite simple, yet incredibly powerful to anyone who types on the iPad's virtual keyboard. It allows you to move the iPad's cursor around the screen simply by moving your finger across its keys. Use two fingers and the cursor moves even faster. Hold shift at the same time and you can select text, making it simple to cut and copy without fiddling with Apple's standard tap and hold gesture.
Just days after it was posted to YouTube, Hooper's concept was turned into a jailbreak tweak. It's now making its way to the App Store. Of course, iOS developers can't integrate the gestures into the standard iPad keyboard because it's against Apple's rules, but they can add them to their own apps, which is where SlideWriter comes in.
Just like Hooper's concept, SlideWriter allows you to move your iPad's cursor around the screen by swiping the display, and it allows you to select text by holding a special key. Using two fingers for either task makes it quicker.
There's no timescale for SlideWriter's release just yet, but you can follow SlideWriter on Twitter to keep up with developments.
Do you think you'll be using SlideWriter on your iPad?
[Via The Next Web]