Should you upgrade to OS X Lion? These pundits say yes!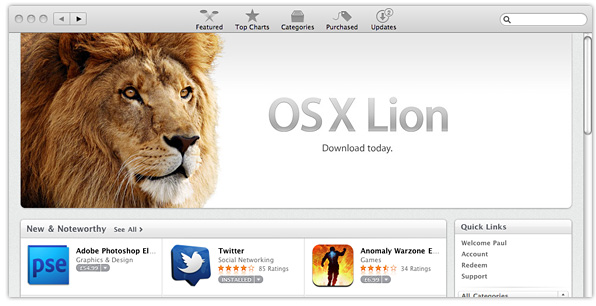 On Thursday, Apple announced that over one million users bought & downloaded OS X Lion on day one of its release. My personal opinion is that unless you rely on older PowerPC applications, that won't work under the new OS, there are enough improvements to make upgrading worthwhile. But if you need more convincing, I've put together a collection of links to some of the best Lion reviews.
The reviews I've selected are mostly by general technology & Apple pundits, but I've also included an excellent one written by a Windows pundit!
Andy Ihnatko – Chicago Sun-Times
"Lion is packed with protein. $29 for system-wide version control and autosave? Sold. $29 for new editions of Safari, Mail, Address Book, and Calendar? Sold. . . . Of iChat, Preview, TextEdit, and AirDrop? . . . For the new, killer security, disaster-recovery and remote-restore tools? Yes, and hell yes. Just on features alone, Lion is a terrific bargain." – Full review
Walt Mossberg – AllThingsD
"The past two major computer operating system releases, Windows 7 and Snow Leopard, were incremental. Lion is very different. It's a big leap, and gives the Mac a much more modern look and feel for a world of tablets and smartphones. If you are willing to adjust, it's the best computer operating system out there." – Full review
Paul Thurrott – SuperSite for Windows
"I can see no reason why anyone with a Snow Leopard-based Mac wouldn't upgrade to Lion. This upgrade features a ton of new features and is priced to sell. It's a no brainer." – Full review
Nick Hide – CNET UK
"We'll be rolling it out across all of our Macs, and so should you — although you might want to wait a few days for any last-minute bugs to be ironed out." – Full review
Jason Snell – Macworld
"In the past, Apple has charged $129 for upgrades with far fewer improvements than this—and that price upgraded just a single system. At $30 for all the Macs in your world, the only reason not to upgrade to Lion is because you rely on old PowerPC-based apps that won't run on it. Otherwise, it's a more than fair price for a great upgrade." – Full review
Brian Heater – Engadget
"Some of the features like AirDrop and Versions may be enough to wow users by themsleves, but this upgrade is unlikely to upend most Mac users' workflow. Chances are, though, you'll find more than enough features amongst the 250-plus to justify that modest price tag." – Full review
Leander Kahney – Cult of Mac
"Should you buy Lion? If you have a Mac purchased in the last four years, and if you don't use Rosetta, then it's a no-brainer at $29.
Buy it. OS X Lion is the future of PC operating systems in the Post-PC Age." – Full review
Remember, if you do decide to upgrade, make a full backup of your system before you start. And if there is a piece of third-party software that you can't live without, make sure that it's OS X Lion compatible.