OS X Lion doesn't play nicely with Adobe applications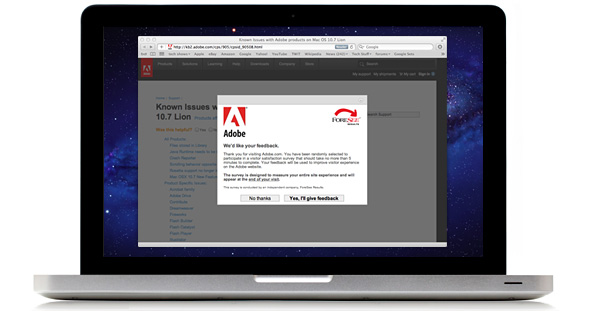 Apple launched its eighth major release of Mac OS X yesterday in the form of Lion, an operating system that aims to take cues from iOS with over 250 awesome new features. Having installed the new OS on your Mac, however, you may have noticed problems with your Adobe software.
An Adobe support article published today lists a number of "known issues" with popular Adobe titles such as Acrobat, Dreamweaver, Illustrator, Lightroom, Photoshop, Premiere Pro, and of course, Flash Builder, Flash Catalyst, and Flash Player.
Apple's dislike for Adobe's Flash isn't exactly a Cupertino company secret. Its iOS operating system for mobile devices such as the iPhone and the iPad has never supported Flash, and with the release of its late 2010 MacBook Airs, Apple stopped pre-installing the Flash plug-in on its new machines. (Which is said to increase the Air's battery life by up to two hours!) However, it seems like Flash is no longer the only Adobe product in Apple's firing line: OS X Lion doesn't want to play nicely with any Adobe applications at all.
Flash Builder and Catalyst simply don't seem to work under Lion at all, and as for Flash Player, you'll find this consumes a whole lot more of your processing power than it did before you upgraded your machine.
Now we all know that Flash was already an infamously power-hungry plug-in on Macs, which is one of the reasons why Steve Jobs and co. aren't fans of it, however, with hardware acceleration disable in Lion, it's now even worse.
Other issues with Adobe's titles include the lack of compatibility for Reader and Acrobat plug-ins in the latest Safari 5.1 release, and Droplets ruined in Photoshop CS3 through CS5.
Adobe has confirmed that it will update many of its products in order to ensure they work as intended under Lion, but did not give a timescale for the release of the updates. As for Lion's handy new auto save, full-screen and resume features, Adobe is still considering whether or not the inclusion of these in its products is necessary:
"Since many of these features require new code in order to work properly, Adobe will investigate which ones make sense to our customers for inclusion in future versions of our products"
Are you having problems with any of your Adobe software? Let us know about them in the comments.
[Via MacNN]