New MacBook Pro with Retina display supports 3 external monitors, new MacBook Air supports 2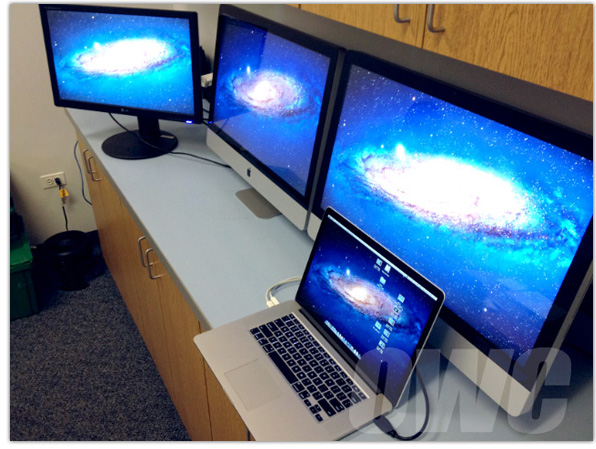 If you've ordered a new MacBook Pro with Retina display and you find that its 15-inch screen just isn't big enough for all the tasks you need to perform – despite featuring over 5.1 million pixels – then you'll be pleased to know that it will power another three external monitors via Thunderbolt and HDMI.
Other World Computing hooked up the notebook to two iMacs running 2560×1440 displays via Thunderbolt, plus one LG monitor with a 1920×1200 display connected via HDMI. With the MacBook Pro's built-in Retina display, that's over 15 million pixels powered by just one notebook.
Pretty incredible, isn't it? What's more, OWC reports that there is no noticeable lag when moving images and windows between each display, and that they were able to play video on all four displays simultaneously without any issues. I think it's safe to say you're never going to run out of room.
The new MacBook Air is also able to power two external monitors – unlike its predecessor, which can only power one – thanks to a new Thunderbolt update. Until now, only the iMac and the Mac Pro were capable of powering more than one external display.
All you need now is a collection of Thunderbolt-capable displays.