New 3TB Time Capsule released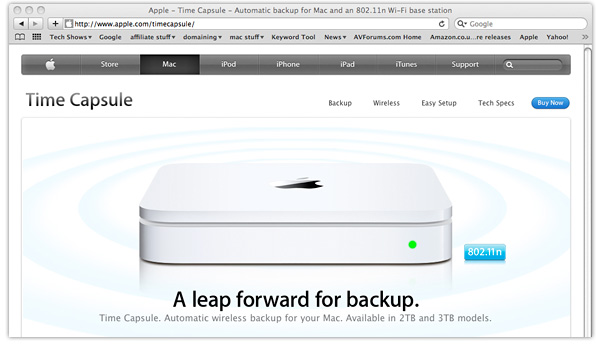 Final Cut Pro X wasn't the only new product Apple released today, they also updated their hardware in the form of a new 3TB Time Capsule – which should be good news if you considered the previously biggest model (2TB) too small for your requirements.
Prior to today there was some speculation that new Time Capsules might run iOS 5, but besides the increased capacity on offer, the only difference appears to be that the specs page no longer mentions physical software being included (Mac or Windows) in the box.
Apple created Time Capsule to work in conjunction with Time Machine – a feature first introduced in Mac OS Leopard, which allows you to make automatic backups of your Mac. Along with backups, Time Capsule can be used as a WiFi base station, and you can connect a printer via it's USB port for sharing on a network.
The 2TB Time Capsule is priced at £249.00 ($299.00), and the new 3TB version costs £399.00 ($499.00). Both models ship within 24hrs.