Modbook Pro to launch with SSD storage as standard, available to order this week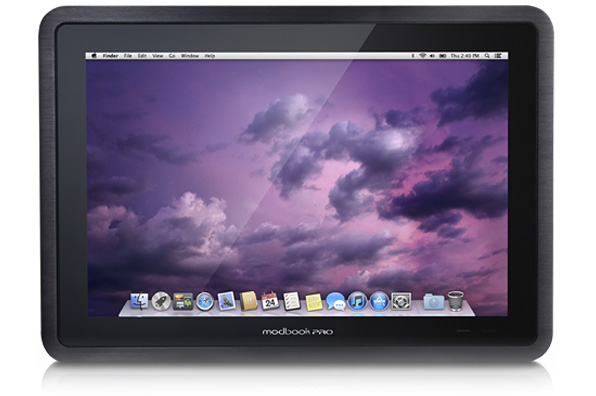 Modbook Inc, the company developing the Modbook Pro – a tablet for creative professionals based on the 13-inch MacBook Pro, has announced that the device will now launch with solid state storage as standard, and that customers can start placing orders for it later this week.
Instead of the previously announced 2.5–inch HDD, the base model Modbook Pro will now ship with a 64GB Nishara™-class SATA 3 SSD, which the company says offers the best balance between storage, speed, and performance. Customers seeking more storage and performance will be able to opt for Sanshara™-class SATA 3 SSDs with up to 480GB capacity.
"We're thrilled about the performance edge our Nishara and Sanshara drives will give Modbook Pro users. Once you've experienced the near instant-on startup and lightning fast system performance of an SSD-powered Modbook Pro, you won't ever go back," said Andreas E. Haas, chief executive officer and chief technology officer of Modbook Inc.
The rest of the Modbook Pro's specs remain the same as we reported back in June: either a 2.5GHz Intel Core i5, or a 2.9GHz Intel Core i7 processor, up to 16GB of RAM, an Intel HD Graphics 4000 chipset, and an 8X SuperDrive. Sporting a Wacom digitizer, the tablet offers 512 levels of pen pressure sensitivity.
Orders for the Modbook Pro start this Wednesday, the 3rd of October – but only for customers with US shipping addresses. The first units will ship in November. Information regarding availability in other countries will be provided at a later date.
Unfortunately, Modbook Inc still hasn't revealed any pricing information. However, what was already looking like an expensive device certainly won't have got any cheaper with the addition of SSD.
[Via Engadget]