Introducing the Modbook Pro, MacBook Pro based tablet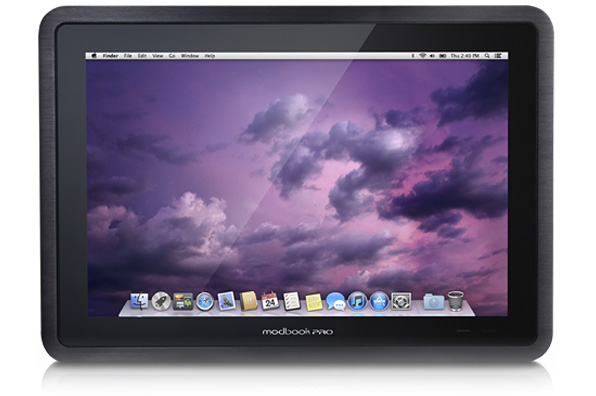 Back in 2008, a company called Axiotron launched the Modbook – an OS X tablet computer based on the MacBook. While it could be argued that Apple killed the market for such a device with the launch of the iPad, that hasn't stopped one of Axiotron's founders developing a new MacBook Pro based tablet – the Modbook Pro.
Courtesy of a Wacom digitizer, the Modbook Pro's 13-inch screen offers 512 levels of pen pressure sensitivity – which its makers claim is more than any other tablet computer currently available. A digitzer pen is included, and can be stored in a built-in pen garage.
The internals of the Modbook Pro are based on Apple's 13-inch MacBook Pro – you can choose between a 2.5GHz dual core Intel i5 or a 2.9GHz dual core Intel Core i7 processor, up to 16GB of RAM, and either a 2.5–inch HDD (up to 1TB) or an SSD (up to 960GB). It also has an Intel HD Graphics 4000 chipset, 8X SuperDrive, 802.11n Wi-Fi and Bluetooth 4.0.
In terms of connectivity, the ModBook Pro has one Gigabit Ethernet port, one FireWire 800 port, one USB 3.0 port, one Thunderbolt port, one SDXC card slot and one audio line in/out.
Pricing information for the Modbook Pro is due to be announced in the next few weeks, and the device is due to go on sale early Autumn this year.
While I imagine some creative professionals will be interested in the Modbook Pro, I can't help thinking that an iPad plus Mac setup would still be the preferred option for the majority of users.
What do you think of the ModBook Pro?