OS X Lion is now available to download!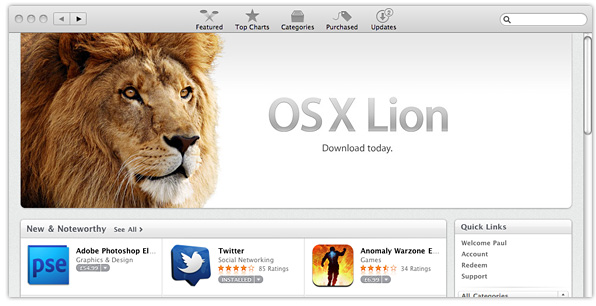 Since OS X Lion's new features were teased at WWDC back in June, it feels like the wait for Lion's official public release has been a great deal longer than it actually has. However, as promised, Apple's latest operating system hit the Mac App Store today, and is now available to download.
Lion costs £20.99 ($29.99) and weighs in at just under 4GB in size. It's Apple's eighth major release of Mac OS X and it aims to take cues from iOS — Apple's mobile operating system that powers the iPhone and the iPad – with features like Launchpad, the Mac App Store, and auto save and full screen mode for many applications.
In order to install Lion, you'll need to be running the latest release of Mac OS X Snow Leopard and have access to the Mac App Store. Those of you who who bought a new Mac between the 6 June 2011 and today are eligble for a free copy, which you can redeem through Apple's website.
For those that don't have a speedy broadband connection, or have strict data caps from there internet service providers, you'll soon be able to purchase a Lion USB thumb drive, similar to the one that comes with Snow Leopard MacBook Airs. However, you'll pay nearly double the price for Lion.
In addition to Mac OS X Lion, Apple also announced updates to its MacBook Airs and Mac minis today – more details on these will follow!