Japanese company receives first certification to produce optical Thunderbolt cable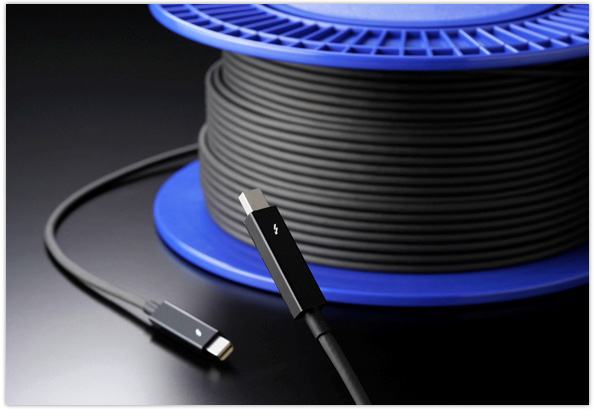 Japanese cable manufacturer Sumitomo Electric has announced that it has received the world's first certification from Intel to produce optical Thunderbolt cable, paving the way for long-distance data transmission via the Apple-backed technology.
According to ZDNet, the news should be especially welcomed by content creators, as it will allow them to place noisy Thunderbolt storage devices in soundproof closets, away from their host machines.
The optical Thunderbolt cable is an active optical cable that enables long-distance transmission up to 30 meters to connect Thunderbolt devices together. The optical Thunderbolt cable is the same diameter as the conventional metal Thunderbolt cable (4.2 mm), and handles just as easily. Sumitomo Electric's special optical fiber makes the cable robust and durable for everyday use. This optical fiber offers high bending performance even when pinched up to 180 degrees or tangled in knots.
While the new optical cable will work with existing Thunderbolt ports, it does have one drawback compared to conventional copper cable – it can't carry power, so devices will need to provide their own.>
Sumitomo hasn't confirmed pricing or a release date for the new cable.