iTunes U content downloads top one billion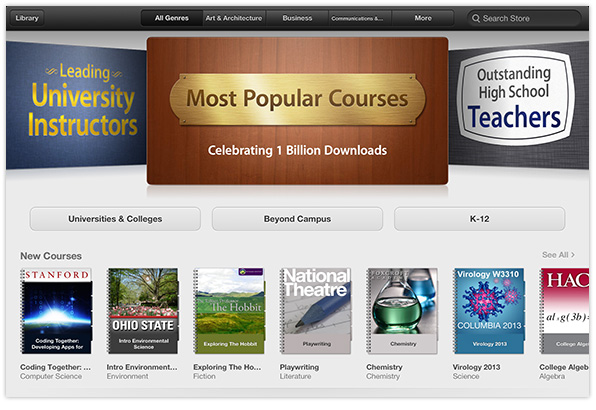 Apple today announced that content downloads from iTunes U have now topped one billion. Launched in 2006, the service features the world's biggest online catalogue of free educational content, which is provided by leading universities, libraries, museums and organisations around the world.
From a press release issued by the company:
It's inspiring to see what educators and students of all types are doing with iTunes U," said Eddy Cue, Apple's senior vice president of Internet Software and Services. "With the incredible content offered on iTunes U, students can learn like never before―there are now iTunes U courses with more than 250,000 students enrolled in them, which is a phenomenal shift in the way we teach and learn.
Besides the one billion content downloads, the press release also revealed some other impressive figures. Over 1,200 universities and colleges, and 1,200 K-12 schools now offer over 2500 public and private courses covering subjects such as the arts, science, medicine, education, business and more.
In addition, leading universities including Duke, Yale, Cambridge, MIT and Oxford have received student enrollments of over 100,000, while both the Open University and Stanford University have surpassed 60 million content downloads each.
The iTunes U app is currently available in 155 countries worldwide.