iTunes U achieves 600 million downloads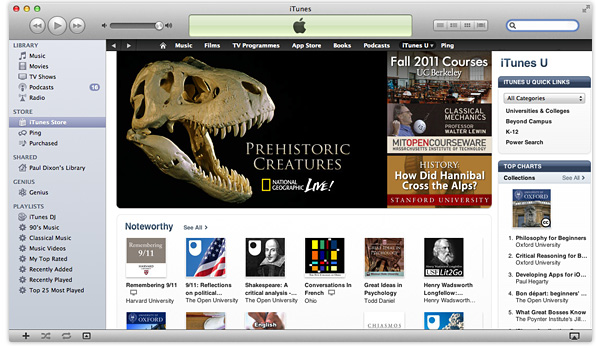 Since its launch back in early 2007, Apple's iTunes U service has now achieved a whopping 600 million downloads, with 300 million of those in the last year alone.
The iTunes U service is a section of the iTunes Store in which students can find educational content from higher education institutions, such as Stanford University, which offers some awesome lectures on programming for the iPhone.
According to The Loop, over 1,000 universities are currently contributing content to the service, which is 800 more than those signed up one year ago:
Currently, iTunes U boasts more than 1,000 universities with active accounts. Schools contributing to the program range from big to small and include some of the world's most prestigious institutions like Harvard, MIT, Cambridge, Oxford, University of Melbourne and University of Tokyo.
Open University and Stanford University are among the most popular sources in the store, with over 30 million downloads each. However, Yale University, MIT, University of California Berkeley and the University of South Florida aren't too far behind with 20 million downloads each.
300 million downloads in the last year alone is a testament to the rapid growth of iTunes U. It seems that as Apple's iOS devices continue to gain popularity, those with iPhones, iPods and iPads are turning to iTunes U for their studies, with 30% of traffic to the service coming from iOS devices.
iTunes U is currently available in 123 countries with roughly 60% of users based outside of the U.S. The majority of content is completely free to download and enjoy, though some is limited to members only.