iPad tops Christmas wish-lists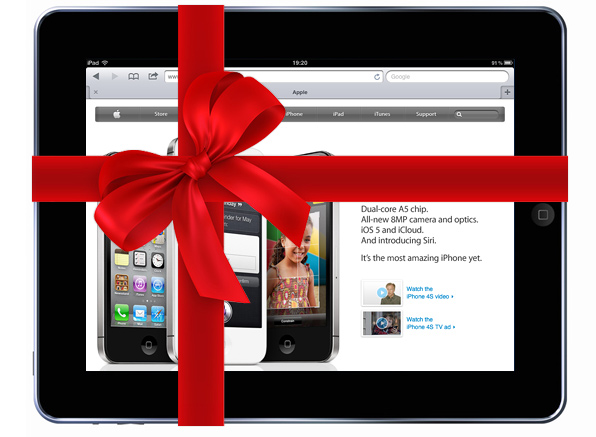 Apple's iOS devices look set to be the most popular purchases this Christmas, topping U.S. wish-lists for children aged 6 to 12. According to the research firm Nielsen, the iPad, iPod touch, and iPhone will be the most common products loaded on to the back of Santa's sleigh.
The iPad is undoubtedly the most popular device, with 44% of the 30,000 kids surveyed saying they wanted to purchase it within the next six months. Nearly a quarter of kids over 13 also chose Apple's hugely successful tablet as their number one gift, knocking "computers" down into second place.
Things have changed a lot since last year, when only 31% of kids said they wanted an iPad. Computers also dominated the top spot in 2011, with the iPad way out in fourth.
In second place this year is Apple's iPod touch, which was chosen by 30% of kids; and in third the Cupertino company's iPhone, which was chosen by 27% of the group.
Based on these results, Apple's predictions of record sales this quarter seem stronger than ever, with Tim Cook's first Christmas in charge likely to be an incredibly successful one.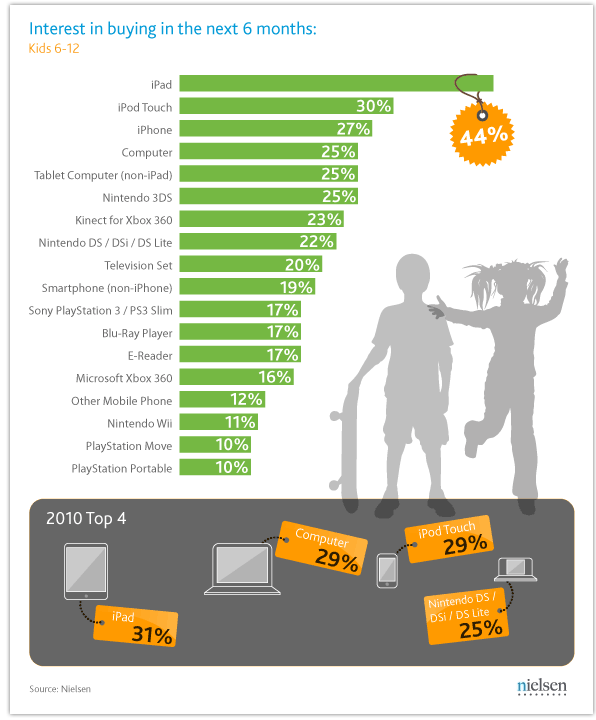 Things are a little different for those hitting their teens, however. For the 13+ age group, only one of Apple's devices features in the top five, and that's the iPad, which takes the top spot with 24% of the votes. Computers take second place with e-readers trailing in third, while television sets and tablet computers (that aren't made by Apple) take the fourth and fifth spots respectively. Out of the 18 devices listed, Apple's iPod touch is way down the list in 12th place.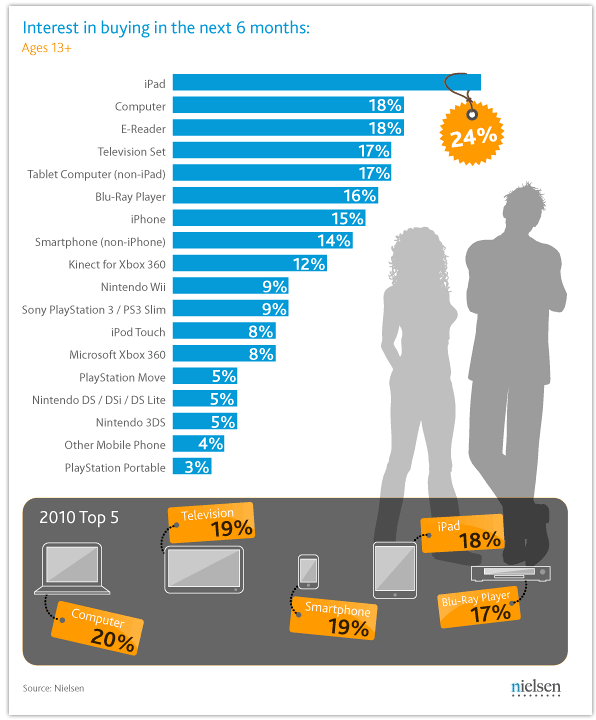 One possible explanation for this, as noted by TUAW, could be that most of the children surveyed who are over 13 already own an iPhone or an iPod touch. This would also explain why popular consoles like the Nintendo Wii, Xbox 360, and PlayStation Portable – items that are traditionally incredibly popular during the Christmas period – are towards the bottom of the list for both age groups.
A similar survey undertaken here in the U.K., by VoucherCodes.co.uk, found that British kids are asking for much the same. Over a third of the 3,000 people surveyed are asking for an iPad 2, while Apple's new iPhone 4S, which is still selling out all over the world since its launch late last month, is in second place. The iPod nano takes sixth place, while items such as 3D TVs and Amazon Kindles fill the space in between.
What tops your wish-list this Christmas?