ION Audio unveil three new iCade products at CES 2012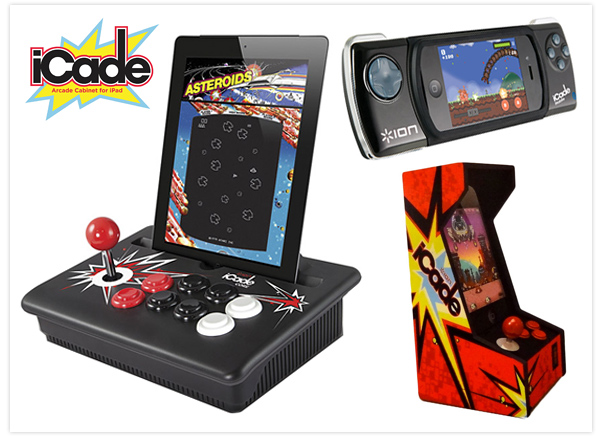 The Consumer Electronics Association (CEA) is holding its annual Consumer Electronics Show (CES) in Las Vegas this week. And although Apple no longer attends the show, their presence can still be felt thanks to the numerous exhibitors unveiling accessories for their products. One such exhibitor is ION Audio, creators of the iCade Arcade Cabinet, who have announced three new products.
In case you aren't familiar with the iCade Arcade Cabinet – it's an accessory that turns your iPad into a retro-style arcade machine. The company's latest products: iCade Core (top left), iCade Mobile (top right), and iCade Jr. (bottom right) are all based on the same idea.
iCade Jr. is a miniature version of the original iCade Arcade Cabinet. Designed for use with the iPhone and iPod touch, It features a joystick, four front buttons, and four rear buttons. iCade Jr is expected to cost around $49.
iCade Mobile is another accessory designed for the iPhone and iPod touch, but rather than a cabinet, this product turns your iOS device into a PSP-style handheld games console. A swivel mechanism allows an iPhone or iPod touch to be played in landscape or portrait mode. iCade Mobile is expected to cost $79.
iCade Core is a streamlined version of the original iCade – there is no cabinet, just an arcade-style joystick. Although it might not look as good as the original, it will obviously be much more portable, and while it seems more suited to an iPad, it can also be used with an iPhone or iPod touch. Pricing for the iCade Core is unknown.
Both the iCade Core and iCade Mobile are expected to be released later this year, availability of the iCade Jr. is currently unknown.
Are you looking forward to buying any of these products? Let us know your thoughts by leaving a comment below.
[Via MacRumors]