iMessage for Mac – will Apple bring this concept to life?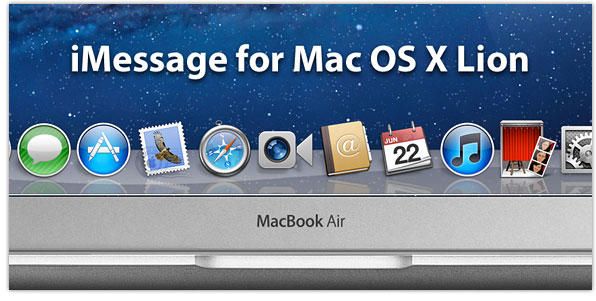 We certainly hope so! A video created by designer Jan-Michael Cart, shows what Apple's new iMessage service might look like running on a Mac, and now we're longing for it even more.
The iMessage service for iOS devices was announced at WWDC earlier this month, and is Apple's answer to popular messaging applications like WhatsApp, LiveProfile, and eBuddy XMS. While it's not a cross-platform messaging service, and can only be used between iOS devices, it does offer some huge advantages over traditional text messaging that early adopters of the service love.
Its main advantage is that it's free. Whether you use the service over Wi-Fi or 3G, it won't cost you a penny. Assuming, of course, that you have a data allowance. Its other advantage is that it's significantly more intelligent than old-school SMS messaging. For example, when you iMessage your friends and family, you can see when your message was read, and when your recipient is typing their reply.
While the service is expected to have a huge impact on third-party messaging applications already in the App Store, and will possibly tempt BlackBerry users to move away from their beloved BBM, there is one thing it is currently lacking: a Mac application.
We've all been wondering whether the service would arrive on our Macs since it was announced at WWDC, and we're confident it will. Just like FaceTime, we think Apple will create an iMessage application for the Mac that will make communicating with iOS devices more seamless and more powerful than ever before – possibly replacing the existing iChat application.
Jan-Michael Cart's concept contains all the features you'd expect from an iMessage application for the Mac, including a user interface similar to that found in the iOS app, real-time notifications, and syncing across all your iOS devices that would mean when you read or reply to a message on one device, your actions are reflected on all the others.
Watch the iMessage for Mac concept video
For now it's just a dream, but we're confident it will become a reality soon after iOS 5 is released later this year.
Does this concept get your mouth watering? Let us know your thoughts in the comments.
[Via MacStories]