Highlights from Apple's Q1 2013 earnings call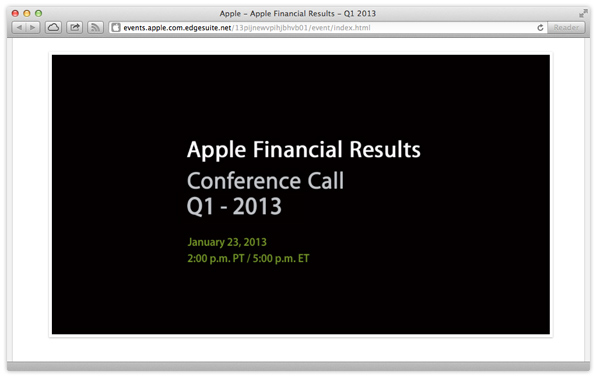 Following the release of Apple's record Q1 2013 results on Wednesday, CEO Tim Cook and CFO Peter Oppenheimer took part in an earnings call to discuss the figures and field questions from a number of business analysts. Here's a roundup of some of the more interesting comments made by the Apple executives during the call.
Peter Oppenheimer on lower year-on-year Mac sales:
IDC estimates the global personal computer market contracted by 6 percent during the December quarter. We introduced the new 13-inch MacBook Pro with Retina display, as well as our stunning new iMacs in October. As we projected a quarter ago, we were significantly constrained with respect to the new iMacs, and were only able to ship them for the final month of the December quarter. We believe our Mac sales would have been much higher absent those constraints.
Tim Cook on rumoured iPhone 5 component order cuts:
I know there's been lots of rumors about order cuts and so forth, let me take a moment and comment on these. I don't comment on any particular rumor, but I would suggest it's prudent to question the accuracy of any rumor about build plans. And even if any data point is accurate, you can't extrapolate,the supply chain is very complex. Any single data point is not a great proxy for what's going on.
Tim Cook on larger smartphone screen sizes:
The iPhone 5 offers a 4-inch Retina Display, which is the most advanced display in the industry. No one comes close to matching the quality. We don't sacrifice the one-handed ease-of-use our customers love. We put a lot of thought into screen size and feel confident we picked the right one.
Tim Cook on market share preservation:
The most important thing to Apple is to make the best products in the world that enrich customer's lives. We're not interested in revenue for revenue's sake, we could put the Apple brand on a lot of stuff and sell more products, but we don't do that. The high-order bit is making a great product.
Tim Cook on the Apple TV:
In terms of the product we make today, we sold over 2 million Apple TVs, up 60 percent. What was a small niche at one time of people that love it is a much larger number. It's an area of intense interest for us. There is a lot we can contribute to the space, but I don't want to be more specific.
Make sure you also read our overview of Apple's Q1 2013 results.