First iPad fourth-generation benchmarks surface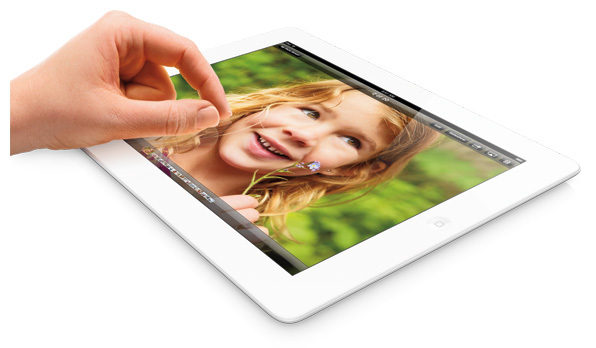 Ahead of its launch alongside the iPad mini on Friday, the first benchmarks for what is believed to be a fourth-generation iPad have surfaced on Geekbench. The results, which were highlighted by Primate Lab's John Poole, back Apple's claims that the device's A6X processor is twice as fast as its predecessor.
As you can see from the benchmarks, the fourth-generation device has a dual-core processor running at 1.39 GHz, paired with 1GB of RAM, which result in a score of 1757. By comparison, the third-generation iPad only manages 791.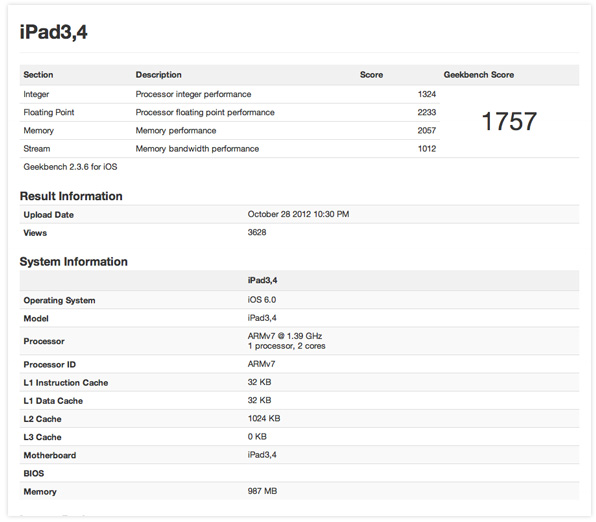 Here's how the latest iPad stacks up against other iOS devices: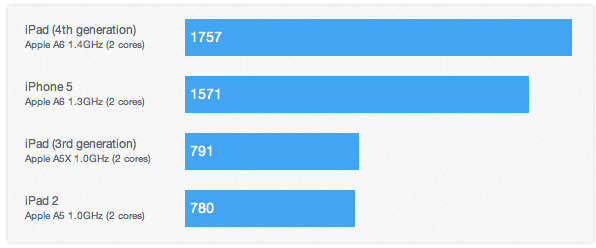 Besides a faster processor, Apple's latest 9.7-inch iPad boasts an improved FaceTime camera, faster Wi-Fi, and the company's new Lightning connector.
With the third-generation iPad only released in March this year, the announcement of the new model at last week's media event came as a major surprise. Most people expected Apple to simply update the third-gen model with the Lightning connector.
As a current owner of a third-generation iPad, I can't say I have experienced any issues with performance (at least not with the apps I use), so as impressive as the Geekbench results look, I probably won't be upgrading this time around.
Will you be getting a fourth-generation iPad on Friday?