Fantastic photo wallpapers for your Mac or iOS device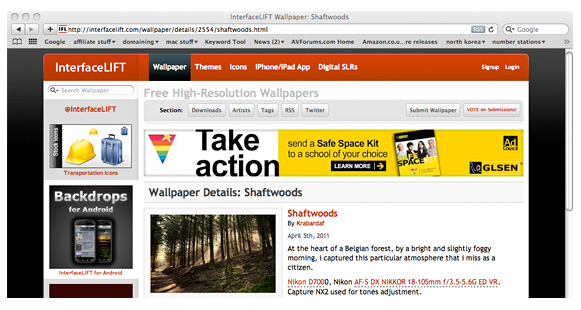 Whether you own an iPhone, iPod Touch, iPad, Cinema Display or any Mac with a built-in screen, you will want to show off that bright, crisp, glossy display to it's fullest with a decent wallpaper. While there are many sites claiming to offer the best wallpapers, there's only one site that I keep returning to – InterfaceLIFT.
Although InterfaceLIFT has a good selection of abstract images, the main reason I recommend it is the quality of the photographic wallpapers. Besides downloading the wallpaper, you can read about where each photo was taken, with what camera, and in many cases you can also visit the photographers own website.
As soon as you land on the site it automatically shows wallpapers for your screen resolution, or if you prefer, you can choose to browse by a specific Apple device or screen type.
All the wallpapers are free to download, and new ones are added on a daily basis.