Facebook finally releases native iPad app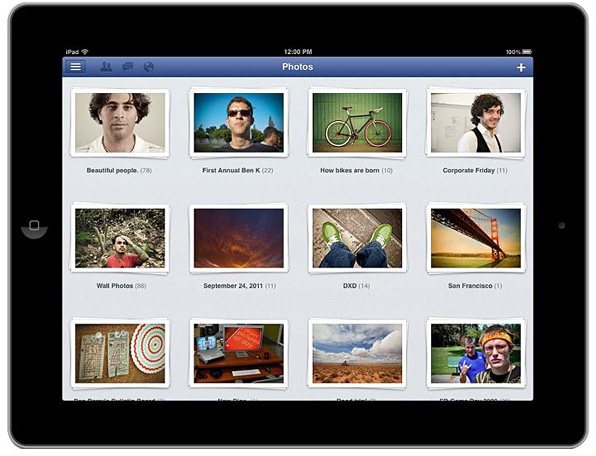 Back in November 2010, responding to the lack of a dedicated app for Apple's tablet, Facebook's Mark Zuckerberg famously stated that: "The iPad isn't mobile". Choosing instead, to focus on apps for the iPhone and Android handsets. Eleven months on, Facebook for iPad is finally here – as an update to the company's iPhone app.
It's no secret that a native Facebook iPad app has been in the works for a while – in July it was discovered that there was a version hidden inside the iPhone app, which could be accessed by altering a file – though Facebook quickly blocked access. And last month the lead developer of the app left his job for a position at Google, posting on his personal blog that the app was feature-complete back in May, but its release kept being delayed, to the point where he thought it "may never be released".
So now that the app has finally been released, what can can you do with it? Here are some of the highlights courtesy of the Facebook Blog:
"A hands-on Facebook
Use your fingertips to scroll through your News Feed. Give the screen a swipe to page through albums. Pinch a picture to zoom in. Whatever you're up to, using Facebook on your iPad just feels fun.
Bigger, better photos
Photos really shine on the iPad. They're bigger and easy to flip through, like a real photo album. It's like having a slideshow with all your friends and memories, wherever you go.
Navigate anywhere, fast
Your games, apps, groups and lists are in the left-hand menu, so you don't have to dig around to find the stuff you use most. And your messages and notifications are at the top of every screen, so you can respond to friends and keep up with important updates—without losing your place.
Chat, games and other features
The app comes with a bunch of other new features: You can chat with friends right from your iPad, for example, or play games and use apps in full-screen mode. You can also watch high-res videos inline, record HD video and stream to Airplay devices."
Have you tried the app yet? Let me know what you think of it by leaving a comment below.