Elgato's new iPad tuner lets you take live TV everywhere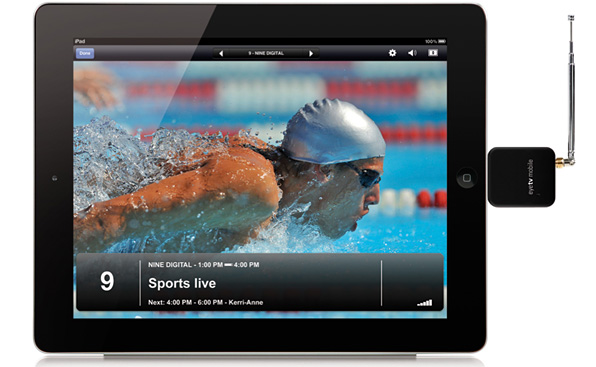 There are a number of services that let you watch TV on your iPad, but nearly all of them require a data connection so that you can stream content from the internet. That's not the case with Elgato's new EyeTV Mobile: a TV tuner for your iPad that allows you to watch live TV wherever you may be – no data connection required.
The EyeTV Mobile is a seriously cool iPad accessory that plugs into your device's 30-pin dock connector. It's a DTT/Freeview receiver that allows you to watch live TV on your iPad, with a built-in telescopic antenna that picks up content the old-fashioned way – negating the need to connect to the internet.
The device uses Elgato's awesome EyeTV iPad application that lets you browse a huge selection of TV channels and see what's on. And because it's just Freeview, you can expect the same library of channels that you get on your home TV – providing you have the signal, of course.
But that's the bit that concerns us slightly: having enough signal. The EyeTV Mobile looks all fancy and cute, but with that little antenna, will you get a good enough signal to pick up quality TV? I mean, I have a whopping great aerial on the roof of my house, and I still struggle to get Channel 5.
Assuming the EyeTV Mobile does receive a good enough signal, this looks like the ultimate iPad accessory. The ability to watch live TV, wherever you may be, without the need for a data connection is something I've wanted for my tablet since I bought it.
Elgato is advertising the EyeTV Mobile for the iPad 2 only, with a price of £99.95 (€99.95). A release date is yet to be announced, so keep your eye on Elgato's website.
What do you think of this device?
[Via 9to5 Mac]