Early reviews for the Retina display MacBook Pro confirm another smash hit for Apple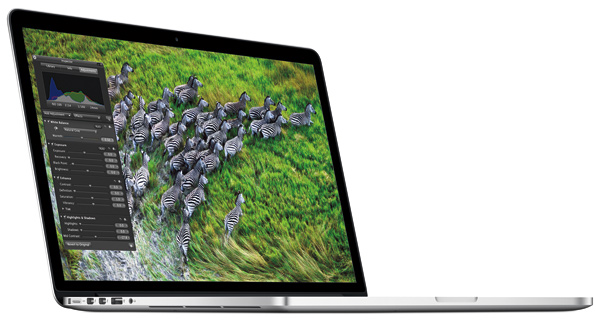 Let's face it, it was always going to be unlikely that we'd see bad reviews for Apple's latest MacBook Pro. Sure, it doesn't have an optical drive or a FireWire port, but it does boast a stunning Retina display and a super slim form factor which help make it Apple's best MacBook yet. Here's what the early reviews are saying:
Shane Richmond – The Telegraph
"Those users who are willing to spend the money will get an exceptional machine, one that points to the future of laptops as much as the MacBook Air did before it. Just as the MacBook Air is now being emulated by PC manufacturers as the 'Ultrabook' so you can expect ultra-high resolution displays to be standard on top tier laptops before too long." – Full review
Dan Ackerman – CNET
"The newly redesigned MacBook Pro with Retina Display combines an amazing screen with just enough of the MacBook Air design to feel like a new animal, and to take its place as the best of the current MacBook breed." – Full review
Tim Stevens – Engadget
"This is a laptop that stands poised to kill an existing one, one that Apple has dominated. The new Pro is good enough to make the old Pro (even the updated version) look and feel obsolete. It pushes and redefines the category, raising the bar higher than even its brethren can jump. If you can afford the premium and aren't set on a 13-inch model there's no reason to buy any Pro other than this Pro." – Full review
Ross Miller – The Verge
"The MacBook Pro with Retina display is already a decent value in its first generation — for an Apple computer, anyhow — and as with the MacBook Air, we expect later generations will become more compelling in price. If you're in the market for a premium OS X laptop right now, it's hard not to recommend the new MacBook Pro with Retina display." – Full review
Joel Santo Domingo – PCMag
"Thanks to its new display, flash memory, up-to-date graphics and processor, and ultra-thin construction, the new MacBook Pro 15-inch with Retina display outperforms, outclasses, and outlasts the Samsung Series 7 (NP700Z5A-S03), and roars in (like a Lion) to be our new Editors' Choice for high-end desktop replacement laptops." – Full review
So it's clear that the media are unanimously impressed by Apple's new MacBook Pro. Its Retina display has, as you'd expect, been its most impressive feature. And its next-generation Intel Ivy Bridge processors together super speedy flash storage are guaranteed to please the professionals who have been devoted to the MacBook Pro for years.
There is, however, one thing that the reviewers haven't looked upon positively, and that is its price tag. With prices starting at £1,799 ($2,199), it certainly isn't cheap. But it has been called the best notebook in its class, and if you add the same processors, RAM, and storage to the old MacBook Pro – obviously without the Retina display – you'll actually pay several hundred pounds more for the last-generation model. It doesn't look quite as pricey when you look at it like that, does it?
Will you be picking up the new MacBook Pro?