Control your Mac using Siri and Vocal on your iPhone 4S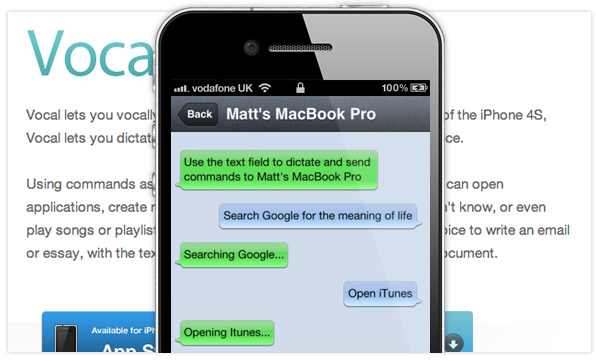 Siri revolutionized the way in which we interact with our devices using our voice when it launched on the iPhone 4S back in October. And ever since, we've discovered all sorts of wonderful hacks that have had the digital assistant controlling cars, television sets, home thermostats, and even pianos.
However, all of those hacks require Siri to be setup with a custom proxy server, which means they're no good for those who have no idea what they're doing (like me). But Vocal is different. It's a new app for the iPhone 4S which allows you to control your Mac using just your voice, and it's incredibly easy to setup.
Simply purchase the Vocal app from the App Store for £1.49 ($1.99) and install the companion app (free) on your Mac. When you give commands to Vocal on your iPhone 4S – using the dictation feature available with Siri – it communicates them back to your Mac, allowing you to perform a whole host of tasks without even touching a keyboard or mouse.
Matthew Roberts who created Vocal demonstrates some of its features in the video below:
As you can see, Vocal will allow you to perform tasks like sending emails, searching the web, creating documents, posting tweets, printing pages, and more. And it does a terrific job, too – responding instantly to commands with a perfect understanding every time.
What's more, The Next Web reports that if Vocal doesn't have a particular command pre-programmed, you can enter in your own:
"If that wasn't enough, the app can be programmed to accept custom commands; if you want to be able to add your own commands, you can. Whilst this isn't the easiest thing to do, in the respect that it is difficult to understand which commands a specific application will support, the app gives you complete control over what you want to test, a trial and error process if you will."
Roberts promises that over time, over-the-air updates will be pushed to the Vocal companion app on the Mac introducing more and more commands. There are a few restrictions, like Vocal cannot be used to play specific artists within iTunes, due to Apple's restrictions; and in-app comments aren't supported yet either.
But even so, I think you'll agree that Vocal is pretty incredible – especially at less than £1.50. And with those updates, it's only going to become even more helpful over time.
Have you tried Vocal yet? What do you think of it?