Apple's new 13-inch Retina MacBook Pro gets torn apart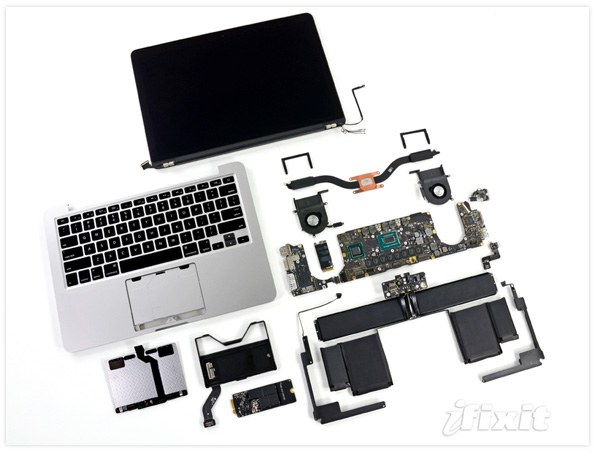 It's been just two days since Apple unveiled its new 13-inch Retina MacBook Pro, and the machine has already received its customary iFixit teardown. Like the 15-inch model, this one's difficult to take apart – and therefore difficult to repair. But surprisingly, Apple has made a few changes to improve accessibility.
With the 15-inch Retina MacBook Pro, Apple placed the large battery cells right in the centre of the machine. That means trackpad repairs are incredibly difficult, but that's not the case with the 13-inch model.
iFixit notes that in this case, the battery cells are placed either side of the trackpad instead, with only the flash storage placed on top. This makes faulty trackpads much easier to replace, but it does leave some space inside the machine:
The empty space next to the SSD is very un-Apple. It's not like them to leave big air gaps in their newest, sleekest designs.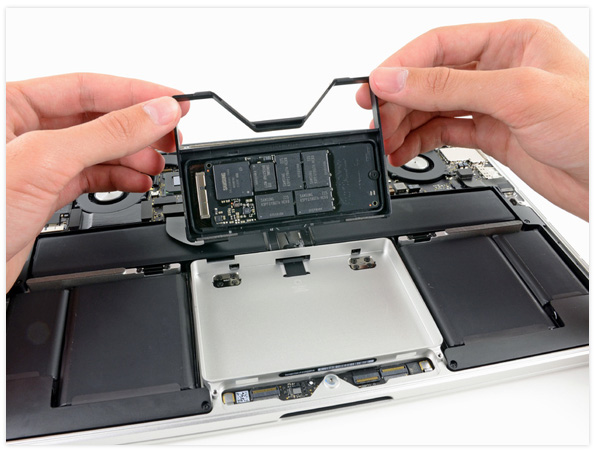 One of the most surprising changes, however, is that only two of the six battery cells in the 13-inch model are glued to the base. In the 15-inch model, every single one is glued down, and they're much more difficult to remove without puncturing the cells.
I'm wondering, however, whether this is more about cutting down on glue than it is about improving accessibility.
Aside from these things, the innards of the 13-inch Retina MacBook Pro are very similar to those in the 15-inch. The RAM is still soldered to the logic board and therefore non-replaceable, Apple is still using proprietary screws that are hard to get into, and the super thin display means it's impossible to get into without breaking the glass (meaning a faulty FaceTime camera means a whole new display).
iFixit has awarded this machine a repairability rating of 2 out of 10 (10 being the easiest to repair). That's one point more than the 15-inch was awarded, but it's still very user-unfriendly.