Apple's latest MacBook Air features an SSD drive 217% faster than its predecessor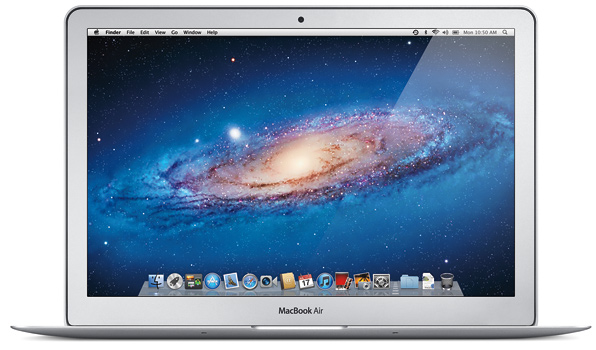 Until my new MacBook Pro arrives on my doorstep, I'm currently using an 11-inch MacBook Air (hooked up to a Cinema Display) as my everyday machine. Although its Core i5 processor isn't the best available, because of its solid-state storage, this machine is super fast. Not as speedy as Apple's latest MacBook Air's, however, which feature SSD drives 217% faster than their predecessors!
That's right: they're not just 10% or 20% faster – they're 217% faster, according to tests performed by OS X Daily. So despite the new Intel Ivy Bridge processor, and the new HD graphics chip, the biggest improvement Apple made to the new MacBook Air is to its flash storage.
Here are the results OS X Daily gathered from their tests on three different MacBook Airs:
MacBook Air 2012 SSD: writes at 364MB/sec, reads at 461MB/sec MacBook Air 2011 SSD: writes at 152MB/sec, reads at 145MB/sec MacBook Air 2010 SSD: writes at 157MB/sec, reads at 188MB/sec
That's a pretty significant change, and it's bound to be noticeable – especially if you're switching from a machine with a traditional hard disk drive, like a MacBook, or MacBook Pro.
There are two things that are interesting about this: Firstly, OS X Daily found that the flash modules in the newer, faster MacBook Air are made by Toshiba, while those in the 2011 and 2010 models were made by Samsung. Second, it's surprising that Apple didn't advertise such a dramatic improvement when promoting the new machine. It didn't mention it at WWDC, and there's no mention of it on the company's website.
However, I believe there's a good reason for this. If Apple keeps quiet, there's nothing to stop the Cupertino company from using the older, slower Samsung SSDs when necessary. If it advertises the newer, faster SSD, then it always has to provide it. And if Samsung cannot currently produce SSDs this fast, Apple is going to be stuck if for any reason Toshiba cannot meet its demand.
It's unclear which drives Apple is using in the new MacBook Pro, but we're assuming they're probably the same.