Apple unveils 'the new iPad' with Retina display, A5X processor & more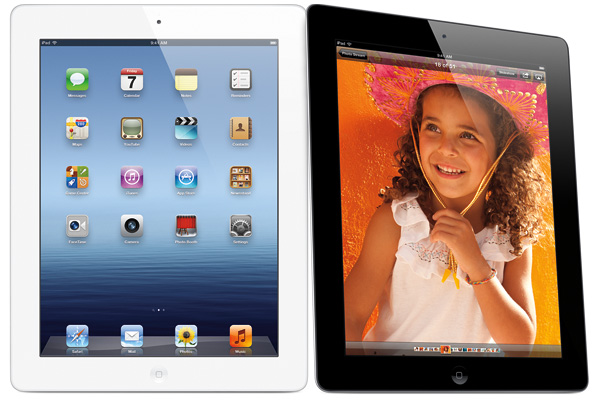 Apple CEO Tim Cook took to the stage at the Yerba Buena Center for the Arts in San Francisco, California, today to announce something we've all been speculating about for months: "the new iPad." In addition to an incredible Retina display, the new tablet offers Apple's latest A5X processor, a new rear-facing camera, and a whole lot more.
At a glance, the new device doesn't look much different to its predecessor, the iPad 2. But inside Apple has packed a ton of incredible new features that make the new iPad the best upgrade yet.
Its Retina display alone will be enough for most iPad users to grab the new model, with a 1920×1080 resolution that actually exceeded that of the large display Apple used for its media event. In total, the display packs a whopping 3.1 million pixels — one more million pixels than a HDTV. It also offers 44% greater saturation than its predecessor.
That's accompanied by a new A5X processor which boasts quad-core graphics guaranteed to make mobile gaming a magnificent experience. When compared to Intel's quad-core Tegra 3 processor, the A5X offers "four times the performance," according to Apple.
A new 5-megapixel backside illuminated sensor sits at the back of the device, featuring a 5-elements lens, a hybrid IR filter, and Apple-designed ISP. The demonstration photos Apple showed off at its event looked pretty incredible on the device's high-resolution display. But it's not just great at shooting stills: you can also look forward to 1080p HD video recording with video stabilization and temporal noise reduction.
While the device doesn't quite offer a full Siri experience like the iPhone 4S, it does offer voice dictation. The iPad keyboard now has a new microphone key next to the space bar which allows you to dictate messages, emails and more without typing a single letter. Voice dictation currently support U.S. English, British,. Australian, French, German, and Japanese — just like Siri.
A feature guaranteed to please those in the U.S. is its super speedy 4G LTE connectivity, capable of 21Mbps speeds over HSPA+, 42Mbps over DC-HSPDA, and an incredible 73Mbps over LTE. Unfortunately that won't be available to us Brits, however, who don't currently have access to 4G networks here in the U.K.
Of course, in order to run all of these things for more than an hour or so, the new iPad also needed a new battery. Like its predecessor it offers 10 hours of battery life on Wi-Fi, or 9 hours while hooked up to an LTE network. That's pretty incredible really.
Prices start at $499 for the 16GB Wi-Fi model, rising to $599 for 32GB and $699 for 64GB. For the 4G models, it's $629, $728, and $829 respectively. Unfortunately Apple hasn't provided U.K. prices just yet, but you'll be pleased to know that we will be getting the device on the same day as those in the U.S.: March 16. Pre-orders start today, so get your credit cards at the ready!
It's a shame that the new iPad doesn't offer a full Siri experience, but I think you'll agree this is an incredible device. That Retina display is truly a game-changer. If you've been wondering why I've been referring to this device as "the new iPad" throughout this post, and not the "iPad 3" or the "iPad HD," it's because that's what Apple has named the device. It no longer has a number, it's just the iPad.
What do you think of Apple's new iPad?