Apple to announce Q4 2012 financial results October 25th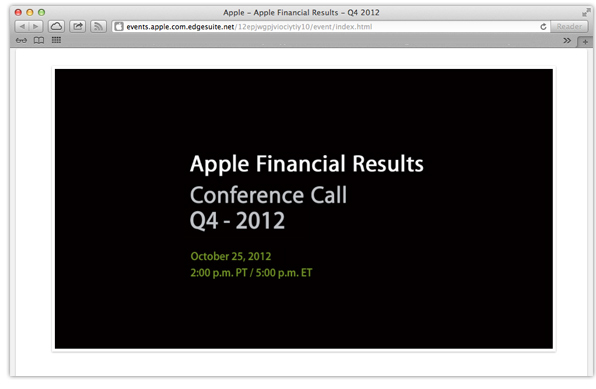 Apple has announced that it will be holding an earnings call to discuss the financial results of its fourth fiscal quarter on Thursday, the 25th of October at 2.00pm Pacific Time (10.00pm in the UK). The company will be providing a live audio stream of the conference call on its website.
Apple reported $35 billion in revenue and a net profit of $8.8 billion, or $9.32 per diluted share for its third fiscal quarter. The company's senior vice president and Chief Financial Officer, Peter Oppenheimer has told analysts to expect revenue of about $34 billion and diluted earnings per share of about $7.65 for its fourth fiscal quarter.
With the iPhone 5 released just before the quarter closed, it will be interesting to hear exactly how many units Apple sold during that period.
As usual, we will provide an overview of the results on here.