Apple Store App updated & available in more countries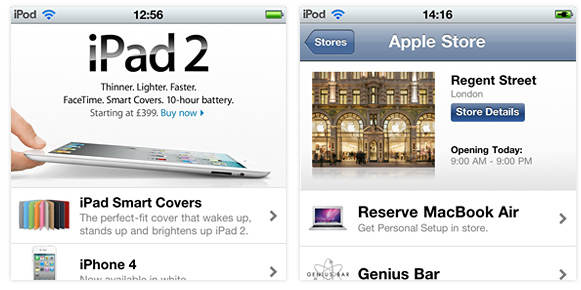 On the back of rolling out the second generation of their retail stores yesterday, Apple have released an updated version of their Apple Store App, and made it available in the UK and other European countries.
The app can be used to purchase standard and custom configured Macs, iPads, iPods, iPhones and accessories. It also features information about all the Apple retail stores around the world, including the ability to reserve products, book genius bar appointments and find out about upcoming events at your local store.
If you use the app inside one of Apple's retail stores you can check in for reservations, make new genius bar appointments, request help from one of the in-store specialists and receive updates about any special events taking place in the store that day.
As you would expect from an app created by Apple, the interface is clean and simple to navigate. The only negative is that there isn't a version optimised for the iPad yet, though I'm sure that will be addressed sooner rather than later.
If you're outside the US or UK let me now if the Apple Store App is available in your country by leaving a comment below, so far I know it's not available in Australia.