Apple starts offering its latest iMac models with built-in VESA mount adapters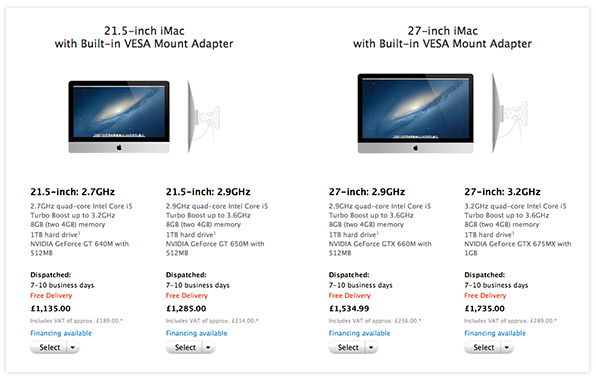 Apple has today started offering versions of its latest 21.5-inch and 27-inch iMac models with built-in VESA mount adapters. The addition, which adds £36 ($40) to the total price of the machines, is only available with new orders. So, unfortunately, if you already own a 2012 iMac, you can't purchase the adapter separately.
The iMac with Built-in VESA Mount Adapter is ready to pair with your favorite VESA-compatible wall mount, desk mount, or articulating arm (sold separately). This iMac doesn't include a stand, so a mount is required. If you don't already have a mount, you can purchase one when you configure your iMac.
As noted in Apple's product description above, the VESA adapter-equipped models don't include a stand, so you need to be 100% sure that you want to mount your iMac before going with the option.
In addition, as the machines only include an adapter, you will still need to purchase an actual VESA mount. Apple offers a few different models amongst the machine's configuration options – including both wall and desk versions. Alternatively, you can purchase a compatible mount from a third-party.
Although Apple does already sell a separate VESA Mount Adapter Kit for £35 ($39), it's designed for the company's older iMac models, and isn't compatible with the latest machines.
The iMacs with VESA adapters are currently shipping in 7-10 business days.
[Via: Macworld UK]