Apple starts countdown to 25 billion App Store downloads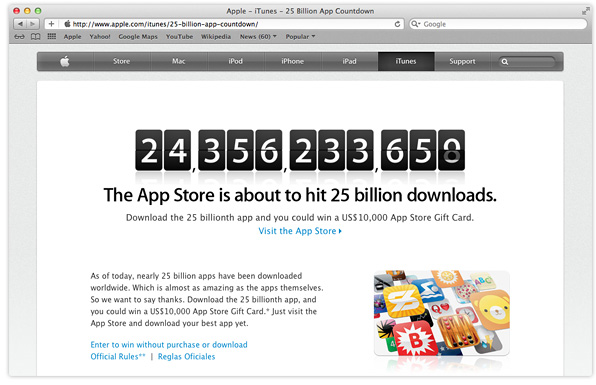 With App Store downloads approaching an incredible 25 billion, Apple have announced a contest that will see one lucky winner picking up a $10,000 gift card (around £6300) to spend on apps, books, videos or music.
The contest is being promoted via a special page on Apple's website:
"As of today, nearly 25 billion apps have been downloaded worldwide. Which is almost as amazing as the apps themselves. So we want to say thanks. Download the 25 billionth app, and you could win a US$10,000 App Store Gift Card. Just visit the App Store and download your best app yet."
The prize will either be awarded to the person who downloads the 25 billionth app, or whoever sends the first non-purchase online entry following the download of the 24,999,999,999th app – whichever comes first.
This isn't the first time the Cupertino company have held such a contest. Back in January 2011, Gail Davis from Kent here in the UK, won a $10,000 gift card after one of her daughters downloaded the 10 billionth app – the free Paper Glider game for iPhone & iPad.
It seems likely that the 25 billionth app could be downloaded sometime next week.