Apple releases OS X Mountain Lion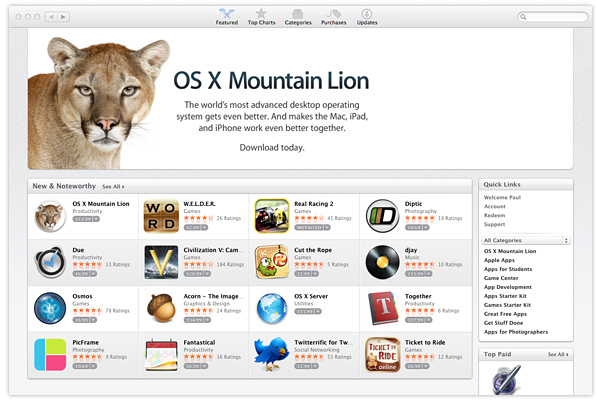 Just as Apple CEO Tim Cook promised during yesterday's earnings announcement, OS X 10.8 Mountain Lion is now available to download from the Mac App Store. Priced at just £13.99 ($19.99), Mountain Lion is the cheapest OS X upgrade to date, and includes over 200 new features.
From a press release issued by Apple:
"People are going to love the new features in Mountain Lion and how easy it is to download and install from the Mac App Store," said Philip Schiller, Apple's senior vice president of Worldwide Marketing. "With iCloud integration, Mountain Lion is even easier to set up, and your important information stays up to date across all your devices so you can keep editing documents, taking notes, creating reminders, and continue conversations whether you started on a Mac, iPhone or iPad."
Some of the more notable features of the new operating system include an iOS-style notification center, enhanced security with Gatekeeper, system-wide sharing, dictation, AirPlay Mirroring between your Mac and an Apple TV, and Mac versus iOS gaming via Game Center.
Mountain Lion's system requirements are a little more complex than previous releases. At the very least your Mac needs to be running running OS X 10.6.8 or later, have 2GB of RAM, and 8GB of available storage space. In addition, it has to be one of the following supported models:
iMac (Mid 2007 or newer)
MacBook (Late 2008 Aluminum, or Early 2009 or newer)
MacBook Pro (Mid/Late 2007 or newer)
Xserve (Early 2009)
MacBook Air (Late 2008 or newer)
Mac mini (Early 2009 or newer)
Mac Pro (Early 2008 or newer)
It's also worth noting that AirPlay Mirroring will only work on a mid-2011 or newer iMac, Mac mini, or MacBook Air, and an early-2011 or newer MacBook Pro.
If you purchased a new Mac from either Apple or an authorised reseller between the 11th of June and the 25th of July, you can claim a free copy of the software through the OS X Mountain Lion Up-to-Date Program.
You may also be eligible for a free upgrade if you buy a new Mac after the 25th of June, and it doesn't have Mountain Lion pre-installed.