Apple releases iOS 5.0.1 to fix battery life woes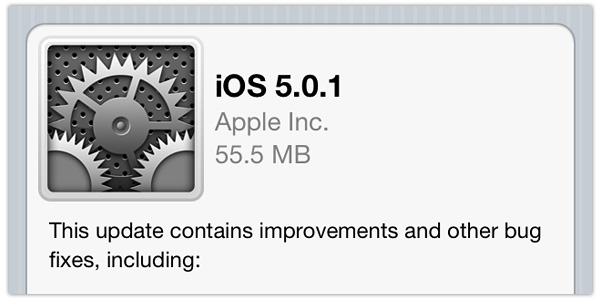 A large proportion of iOS 5 users – especially those with an iPhone 4S – have been plagued by battery issues since updating to Apple's latest iPhone firmware. But thankfully, the Cupertino company has issues an update today to combat those issues, and others.

iOS 5.0.1 is now available to download through iTunes, or as an over-the-air update for those running iOS 5. In addition to fixing "bugs affecting battery life," the software adds multitasking gestures to the first-generation iPad, and makes improvements to Siri for Australian iPhone 4S users:
This update contains improvements and other bug fixes including:
– Fixes bugs affecting battery life
– Adds Multitasking Gestures for original iPad
– Resolves bugs with Documents in the Cloud
– Improves voice recognition for Australian users using dictation
iOS 5.0.1 is available to users with an iPhone 3GS, 4, and 4S; the iPod touch third- and fourth-generations; and all iPad models.
Has the latest iOS 5 update fixed battery life issues for you? Let us know in the comments.