Apple puts all eligible products back on EPEAT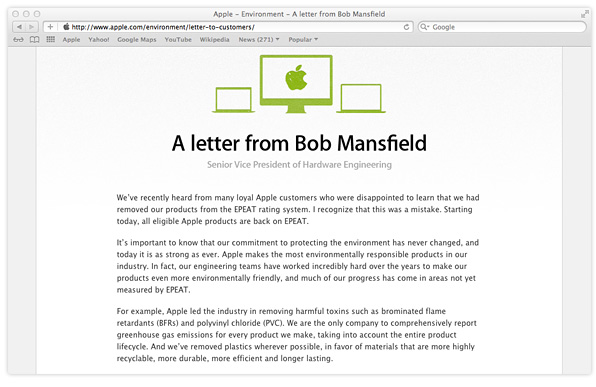 Apple has just announced that it will be reversing a decision made only last week to remove all of its Mac desktops and notebooks from EPEAT – a voluntary registry for green electronic products.
The exact reason why Apple decided to withdraw from EPEAT remains unknown. There was some speculation that it may have been related to the new Retina display MacBook Pro. Manufacturing processes used to create the slim design of the machine also make it more difficult to recycle than other products.
Whatever the reason, Apple had faced criticism for the move, especially from some government and educational institutions, who are only allowed to purchase products with EPEAT certification.
In an open letter, Apple's Senior Vice President of Hardware Engineering Bob Mansfield has admitted that the company made a mistake:
We've recently heard from many loyal Apple customers who were disappointed to learn that we had removed our products from the EPEAT rating system. I recognize that this was a mistake. Starting today, all eligible Apple products are back on EPEAT.

It's important to know that our commitment to protecting the environment has never changed, and today it is as strong as ever. Apple makes the most environmentally responsible products in our industry.
Unsurprisingly, EPEAT CEO Robert Frisbee has welcomed Apple's change of heart:
We look forward to Apple's strong and creative thoughts on ongoing standards development. The outcome must reward new directions for both design and sustainability, simultaneously supporting the environment and the market for all manufacturers' elegant and high-performance products.
The full list of EPEAT-certified Apple products, which includes the MacBook Pro with Retina Display, is available to view here.