Apple previews iOS 6 with all new maps, Siri features, Facebook integration, new Passbook app, and more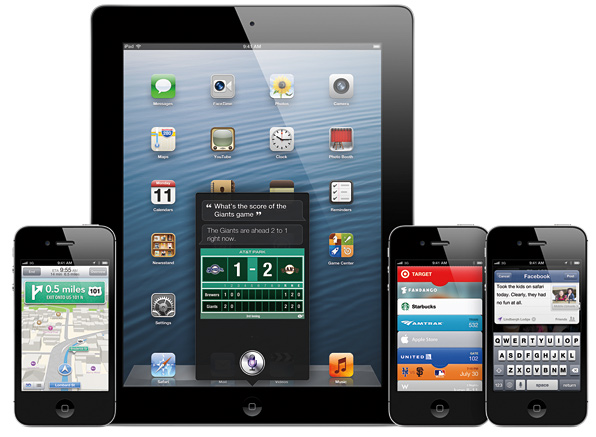 While no iOS hardware updates were announced at today's WWDC keynote, we were treated to some of the features of the upcoming iOS 6. The new features Apple previewed might not have been revolutionary, but they are quite interesting in their own right.
The functions themselves are mostly evolutions of existing ones, and in a few cases brand new. If you have a Mac you will be able to take full advantage of all of them, and you can safely bet that iCloud is at the core of where Apple is taking iOS in the future.
Siri
Apple have spent the last 8 months fine-tuning Siri and expanding the serivice. With iOS 6 you can ask about sports, restaurants and movies with much better results and accuracy. You can also have Siri launch apps for you, which might come in handy in numerous situations.
Perhaps one of the more interesting extensions of Siri is the deals Apple have made with several car manufacturers. This is part of "Eyes Free", which will enable you to control a great deal of the iPhone just by pressing a button near the steering wheel of your car. If you're getting a new car soon, this might be worth keeping an eye out for.
Also worth noting is that Siri will be coming to the new iPad when iOS 6 arrives.
Facebook integration
Similar to what happened when Twitter was integrated into iOS 5, Facebook will be available on a system level, and other apps can tie into the service. Never before has it been so easy to clutter up your friends timeline with nonsense and actual content.
You will also be able to see what apps your friends have "liked" in the App Store, which could potentially make choosing apps less of a chore.
Phone enhancements
One of the apps Apple has touched the least since the introduction of the original iPhone back in 2007, is the Phone app. No longer! The Phone app in iOS 6 will sport several improvements such as more choices for incoming calls and reminders for getting back to someone.
Do Not Disturb
I have had this feature on my wish-list for a long time and I'm very glad to see Apple introduce a system-wide setting for when notifications and even phone calls should be quiet. Anyone who has been woke up by a push notification in the middle of the night will love this feature!
FaceTime
When it was introduced back in 2010, Apple said it would eventually be possible to use FaceTime not only on WiFi, but on mobile phone networks too. Well, that day will come with iOS 6 and you can start video-chatting with people from anywhere you have a 3G connection.
Passbook
If there's one thing that stands out as less likely to work outside of the US, I would have to venture a guess that it will be Passbook. The idea is to have all your tickets, boarding passes and coupons in one convenient app, always in your iPhone. The real question is which stores and airlines will support this.
Doubtlessly, this could make the lives of the frequent fliers a lot more pleasant and if you, like me, hate to carry around a lot of papers and cards, this would be great.
Guided Access
This might not be completely relevant for some people, but for those with impairments of some kind, I would assume this is most welcome. The device can be locked down, suitable for museums who want to use an iPad as an information display, or in a school setting. Great also for those with reduced eyesight, as they can get access to even more of the functionality of the device.
Maps
Rumored and speculated for a while, it was indeed true that Apple was working on their own mapping solution for the iOS devices. You have local search built in, with real-time traffic reporting and a turn-by-turn navigation to boot. All the maps are in full 3D with great textures and lovely graphics, just zoom in and enjoy the scenery.
Naturally, it also hooks into Siri so you need only ask where to go.
Safari
Like with Safari on the Mac, there will be the iCloud tabs, making it virtually effortless to move from device to device and just keep browsing. Also included in this update is an offline reading list, so you don't alway have to be connected to read what you want.
Mail
Mail also got some updates, one of which I personally am quite glad Apple finally got around to addressing. Namely that you can have more than one signature. Another new feature is that you can mark some people as "VIP", ensuring that you will always get their messages, whatever that message might be.
Other updates
We will also see some updates to the various stores, although Apple has yet to specify exactly what this means. For those in China, iOS 6 will be a big and welcome update as Apple adds even more services relevant to the region, straight into the core of iOS.
All in all, I would have to say that Apple has done a good job of featuring some of the really useful functions coming in iOS 6, but there are sure to be a lot more that will be quite relevant to a lot of people. As always, there is a lot under the surface, waiting to be discovered and I'm looking forward to seeing what other tweaks and improvements Apple has made.
Robert is a freelance tech journalist from Sweden. You can follow his posts on streakmachine.com or you can follow him on twitter @streakmachine