Apple overtakes RIM in US smartphone sales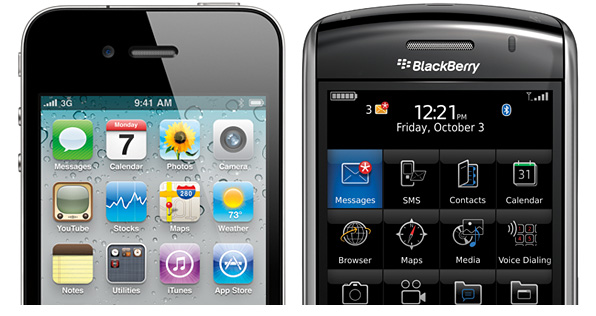 Despite the iPhone's overwhelming success and unparalleled popularity, for some time it continued to tail behind BlackBerry and Android powered devices in third when it comes to smartphone sales in the U.S. But not anymore.
The iPhone has now overtaken RIM's BlackBerry to secure second place, according to market researcher comScore. The iPhone took second place during the three-month period ending in May 2011, increasing its market share to 26.6%. RIM's devices on the other hand dropped 4.2% of their share, lowering its total to 24.7% and landing the BlackBerry in third place.
Android powered devices continue to dominate the top spot, however, with 38.1% of the market. Though it's worth noting that while iOS and BlackBerry OS only run on their manufacturer's devices, Google's Android operating system has been adopted by a number of big handset makes, including Samsung, HTC, Motorola, and Sony Ericsson.
With regards to hardware and handsets in general, however, iOS devices were among the few that continued to grow in an otherwise "flat" market. Apple's devices gained 1.2% increasing their total market share to 8.7%, while rivals Samsung – the market leader – showed no growth at all. LG's devices were the only ones not running iOS or Android that showed any increase, but that was only a measly 0.2%.
As Apple continues to enjoy its success with the iPhone and the device becomes even more widespread, iOS market share will undoubtedly continue to benefit. Whether the iPhone will ever overtake Android devices, however, remains to be seen. But with so many of them entering the market, does Apple have a chance?