Apple emails customers to announce its 9th straight J.D. Power and Associates award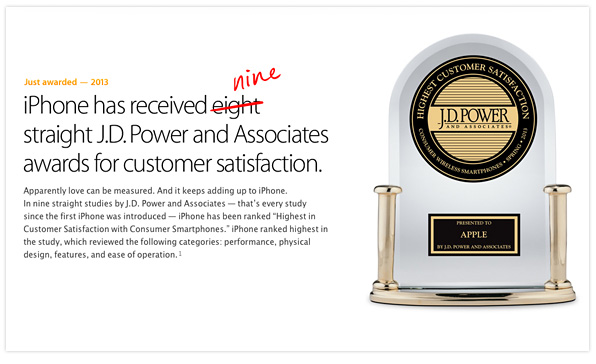 Earlier this week, Apple updated its website to remind fans why it's so easy to love the iPhone 5. One of the reasons it gave was the fact that the device had been awarded eight J.D. Power and Associates awards for customer satisfaction, but that's already outdated. The Cupertino company is now emailing customers to tell them that the ninth award just came in.
"Turns out, we spoke to soon," the email reads. "For the ninth time in a row, iPhone ranks 'Highest in Customer Satisfaction with Consumer Smartphones' by J.D. Power and Associates."
The email goes on to explain where the iPhone excels and beats its rivals. Those categories include performance, physical design, features, and ease of operation. Each of those factors is given a percentage and placed into a 1,000-point scale.
So while some Android-powered devices, which now come with 1080p displays and quad-core processors, might beat the iPhone when it comes to performance, Apple's device could still have the edge in physical design and ease of operation.
And it has a big edge, too. Apple scored 855 points this time around, thanks to the iPhone, easily beating the study average of 796 points. Its closest competitor was Nokia, which scored 796 points.
That's an impressive lead, but it's even more impressive when you consider that the iPhone has won every single J.D. Power and Associates award since it was launched back in 2007. Every single one! No other company has grabbed one since.