Apple catches up with demand for the 4th-gen iPad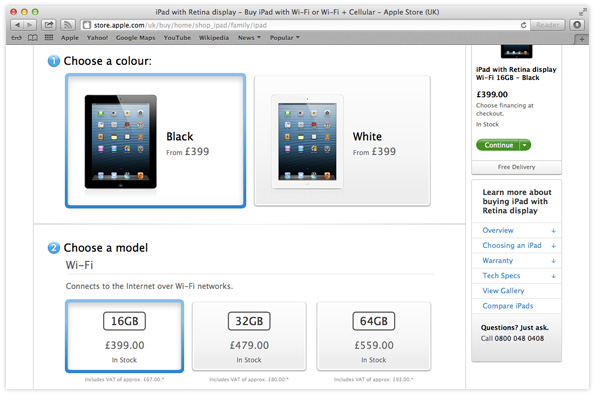 Good news for anybody thinking of buying a fourth-generation iPad – Apple appears to have caught up with the demand for the new device already. Yesterday, the Cupertino company's US, Canada, Australia, New Zealand, Hong Kong, Japan, Korea, and Singapore online stores all started showing the device as being "In Stock", and today the same has happened here in the UK.
Launched alongside the iPad mini on Friday, demand for the fourth-generation iPad was never going to be quite on the same level as previous models.
Apple only released the third-generation iPad in March this year, and aside from adding a faster processor and the company's new Lighting connector to the new model, little else changed.
On Monday, Apple announced it had sold three million iPads in the three days following the launch of its new models, but failed to reveal how that figure broke down between the iPad mini and 4th-gen iPad.
Notably, the iPad mini continues to be in short supply across all of the company's online stores, with an estimated shipping time of two weeks quoted.
Cellular versions of the iPad mini and 4th-gen iPad launch later this month.