Apple announces the retirement of Bob Mansfield, Senior Vice President of Hardware Engineering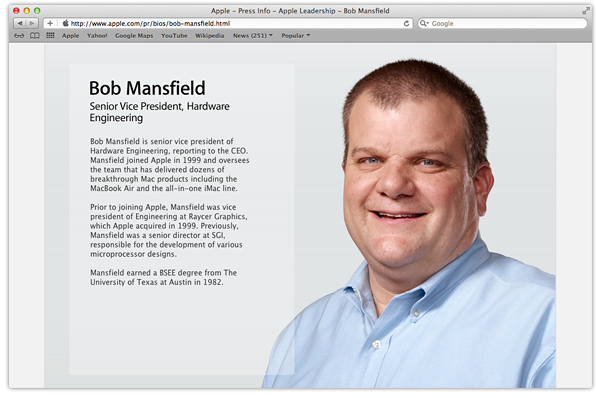 In a press release issued by the company, Apple has announced that Bob Mansfield, the company's senior vice president of Hardware Engineering, is set to retire. Apple has lined up Dan Riccio, vice president of iPad Hardware Engineering, to take over from Mansfield after a transitional period of several months.
"Bob has been an instrumental part of our executive team, leading the hardware engineering organization and overseeing the team that has delivered dozens of breakthrough products over the years," said Tim Cook, Apple's CEO. "We are very sad to have him leave and hope he enjoys every day of his retirement."
Before joining Apple in 1999, Mansfield was vice president of Engineering at Raycer Graphics – a company which Apple acquired. He has played a major role in recent hardware releases, and has led hardware engineering for the Mac since 2005, iPhone & iPod since 2010, and the iPad since its inception.
Though perhaps not as well known as the likes of iOS chief Scott Forstall, and head of marketing Phil Schiller, Mansfield has appeared in number of promotional videos for products over the years, including ones for the MacBook Air and iPad.
Riccio, who currently works under Mansfield, has been an Apple employee since 1998. Prior to taking charge of the iPad division in 2010, he was vice president of product design.