Apple announces iPhone 4S with A5 CPU, 8MP camera, Siri assistant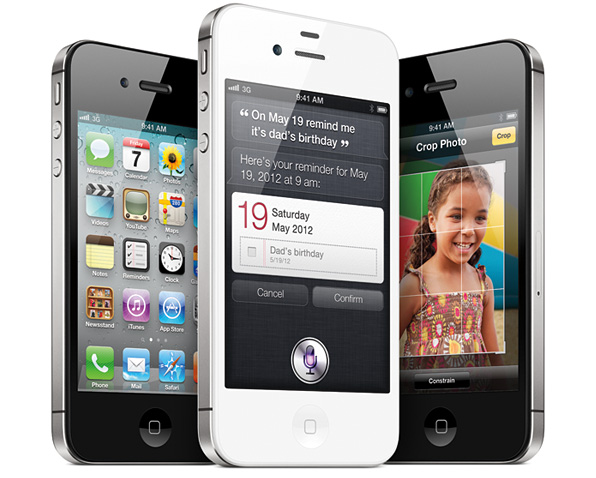 The wait is over, folks. Apple's Phil Schiller finally announced the company's fifth-generation iPhone and put months and months of rumors and speculation to rest. As expected, the new device is called the iPhone 4S, and while it's identical to the iPhone 4 on the outside, on the inside "it's all new."
Powering the new device is Apple's latest dual-core A5 processor, which delivers a staggering 7 times faster graphics than the iPhone 4 – which was already an impressive device in the visuals department. On hand to show off the device's gaming abilities was Mike Capps from Epic Games, who gave a demonstration of Infinity Blade 2, the successor to the company's already infamous iOS title.
The iPhone 4S also packs an impressive 8-megapixel camera, capable of snapping images at 3264 x 2448 pixels. That's 60% more pixels than the iPhone 4. The new sensor also allows the camera to gather 73% more light, and it's a lot faster – taking just 1.1 seconds to snap the first photo, and just half a second for the next.
The new camera also provides face detection like many modern point-and-shoot cameras, video image stabilization, temporal noise reduction, and finally 1080p HD video recording.
Despite the new CPU, which is 2 times faster than the A4 chip, Apple assured users that they wouldn't be short of battery life. Schiller said:
"Now you would think if you put a processor that fast in a phone this thin you're going to get worse battery life. But we've worked hard. We now have 8 hours of talk time, 14 hours of 2g talk time, 6 hours of 3g browsing, 9 hours of Wi-Fi browsing."
The device's wireless system has also been improved to "intelligently switch" between antennas to provide better call quality. Apple also promised faster downloads, with up to 14.4Mbps download speeds. The company also says the new system means the iPhone 4S is even faster than rival 4G handsets.
As expected, the device is also a 'world phone', which means it is compatible with both CDMA and GSM networks. That won't mean a lot to those of us in the U.K., but if you're in the U.S., it means there will no longer be two different iPhone models for different carriers.
And the new features don't stop there. Like the iPad 2, the iPhone 4S is capable of AirPlay mirroring, which means that anything you do on your new iPhone can be steamed to your TV – via Apple TV or HDMI using Apple's AV Adapter.
One of the biggest selling points for the iPhone 4S, however, is the new Siri assistant feature. The introduces a voice to your iPhone, and allows you to interact with it like never before. Siri asks you what you'd like help with, and all you have to do is tell it.
For example, you get now get the weather, set alarms and appointments, check your stocks, get directions, get your text messages and more – all by simply talking to your device. What's more, Siri talks back: as opposed to just displaying your results as text, it will also read them out to you.
While many will be disappointed that Apple didn't announce an all-new iPhone 5 today, there's no denying that on the inside, the iPhone 4S looks like a pretty impressive device.
What do you think of Apple's new iPhone 4S?
Update: The iPhone 4S is available to Pre-order in the UK from the 7th of October, for delivery beginning 14 October. Prices start at £499.00 (no contract).