Apple announces next version of OS X – Mountain Lion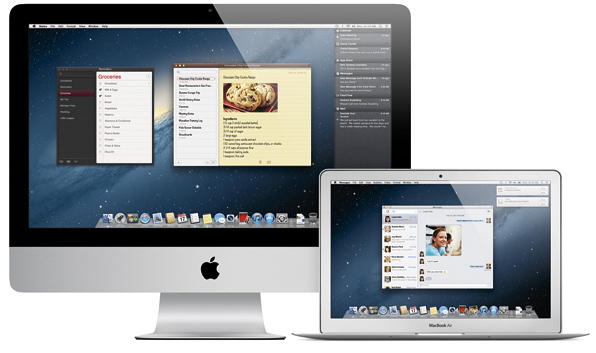 Seven months on from the release of Lion, Apple have today announced details about the next-generation of OS X, along with the release of the first developer preview. Named Mountain Lion, and set for a late summer public release, it has over 100 new features – many of which further blur the lines between iOS and OS X.
From a press release issued by Apple:
"The Mac is on a roll, growing faster than the PC for 23 straight quarters, and with Mountain Lion things get even better," said Philip Schiller, Apple's senior vice president of Worldwide Marketing. "The developer preview of Mountain Lion comes just seven months after the incredibly successful release of Lion and sets a rapid pace of development for the world's most advanced personal computer operating system."
Mountain Lion introduces the following apps and features from iOS: AirPlay Mirroring, Notification Center, Messages, Notes, Reminders and Game Center. It also has a brand new security feature called Gateway which protects against malicious software, and much tighter iCloud integration.
Apple have created this video tour:
Here's an overview of some of the most interesting features:
AirPlay Mirroring
With AirPlay Mirroring, you can stream what's on the screen of your Mac to an Apple TV connected television set – web pages, videos, photographs, keynote presentations and more.
Messages
Replacing iChat, Messages is a new application for OS X. You can use it to send unlimited messages to any Mac, iPad, iPhone, or iPod touch, and launch FaceTime video calls. A public beta version of Messages can be downloaded from Apple's website.
Gateway
To help prevent the downloading and installing of malware, Gatekeeper allows you to choose from three settings: 1. download and run apps from anywhere, 2. download and run apps from the Mac App Store and apps with a Developer ID, or 3. only download and run only apps from the Mac App Store.
Notification Center
Positioned in the top right of the screen, and one of the most obvious iOS features – Notification Center alerts you to new emails, instant messages, calendar alerts, friend requests, software updates and more.
iCloud
Not only does Mountain Lion make it much easier to access documents across your devices, the new iCloud Documents pushes changes to all of them. So when you add, delete, or edit something on your Mac, it also happens on your iPad, iPhone, and iPod touch. Thanks to a new API, developers can make their document-based apps work with iCloud.
Software Updates
Rather than downloading system updates via the standalone Software Update tool, Mountain Lion updates are done via the Mac App Store. This makes perfect sense given that the Mac App store is now where you download new versions of OS X.
For more information, check out the new Mountain Lion page on Apple's website.
Which features are you looking forward to trying? Let us know your thoughts by leaving a comment below.