32nd UK Apple Store opens in Westfield Stratford City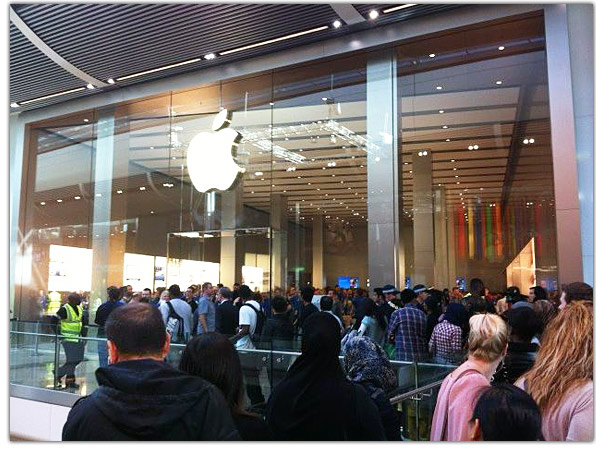 Europe's largest urban shopping centre was opened this morning. Located next to the Olympic Park in East London; Westfield Stratford City is home to Apple's 32nd UK Retail Store – their 5th in London. As is now tradition at Apple Store openings, the first 1000 customers were welcomed with free t-shirts, though it appears some shoppers were expecting to receive something a little more valuable.
World of Apple's Alex Brooks, who attended the opening and took the photo featured above, posted the following on Twitter:
"I may have underestimated this queue. Problem being that these people think Apple is giving out free stuff, as in more than t-shirts"

"was a huge queue of people assuming they were giving out free iPhones. Saw many t-shirts hitting the bins :("
Of course it's worth bearing in mind that the Apple Store was just one of 300 retail premises opening in the new shopping centre, so it's safe to assume that many of those disappointed to be only getting a t-shirt won't have been typical Apple fans.
If you fancy checking Apple's 32nd UK store out for yourself, you can find it on the first floor of the centre next door to Hollister. For more information, including opening times and directions, visit the Westfield website.