2012 iMac review roundup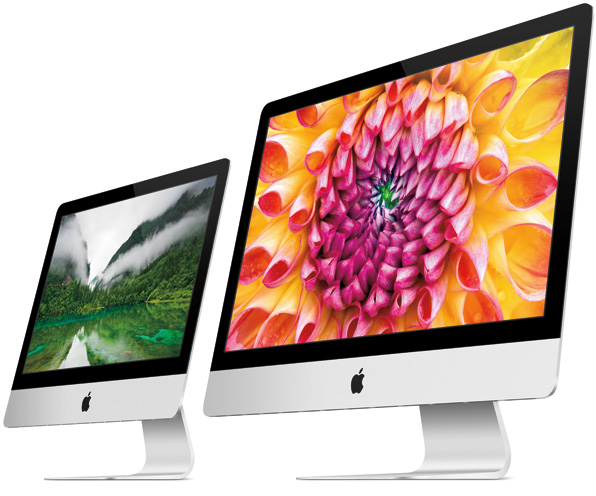 After making us wait for what seemed like forever, Apple made its new iMacs available to order last week. The 21.5-inch model is now shipping — though supplies are limited — while the 27-inch model will be coming later this month. The first reviews for the new all-in-one have now begun pouring in, and we've put together a roundup to help you device whether it's worth your hard-earned cash.
Here's what a few of the reviewers had to say:
David Pierce – The Verge
"The display is really the only unequivocated improvement in the new model, and it's a big one. The sleeker, slimmer design is great, but it causes a couple of problems and forces a few unfortunate compromises. Yes, it's faster, but only enough to keep up with the Joneses — equal performance can definitely be had elsewhere. There's no question this is the best iMac yet, but of course it is; Apple doesn't have a habit of making its good products worse. If you weren't in the market for a new all-in-one desktop, the iMac's not suddenly so much more appealing that you absolutely have to have one now, but if you're looking for a desktop PC there's still no better option." – Full review
Darrell Etherington – TechCrunch
"The 2012 iMac is an update that pushes the needle in all the ways we're used to from Apple – improved performance, better hardware under the hood, etc. – but it also adds the most dramatic and attractive case redesign in recent memory to the mix. This is both nice from an aesthetic perspective, and a welcome change for anyone who needs to move their all-in-one around or just wants it to take up less space on the desk." – Full review
Dana Wollman – Engadget
"The newest iMac is a great product, and despite Apple's reputation for making pricey things, it's actually a great value, too. Even as other computer makers catch up in terms of screen resolution and industrial design, the iMac stands out with a stunning display that really does cut down on screen glare. As for FusionDrive, it's exceedingly rare to find a consumer system that uses an HDD for storage and an SSD for system stuff. That's a clear step up from typical hybrid drives, which use a much smaller amount of flash memory, mainly for caching and improving start-up times. And while Apple doesn't always win on specs, it makes a tempting offer here: you get beefier graphics than on competing systems, which should help creative professionals, amateur photographers and casual gamers alike." – Full review
Rich Brown – CNET
"You might be alarmed by the fact that the design is the most interesting thing about the new iMac. A thin bezel is nice to look at, but it doesn't improve processing speed, workflow, or overall utility. Fortunately for Apple, it evolved that design from a computer with a strong technical foundation. It is the updates to that foundation, and a few points of polish along the way, that keep this iMac on elite footing. I'll suggest you line up behind the Blu-ray fans to those of you hoping Apple will someday add touch-screen input to the iMac. Instead, this is a computer for serious, performance-driven users, particularly those who need a high-resolution display, and fast graphics and disk performance." – Full review
Vincent Nguyen – SlashGear
"The new iMac is a beautiful piece of hardware, that's clear to see. Apple's clever construction techniques have enabled a stylish, distinctive all-in-one, but more importantly they've legitimately improved the user-experience, too. The full lamination process takes the same display pixels as from the previous generation iMac and makes them work harder and look better; you'll appreciate the many pounds dropped from the overall weight of each system from the moment you lift it out of the box.
[…] "DIY enthusiasts may miss the upgrade possibilities, but everyone else will be enjoying an incredibly capable computer. With strong performance the 2012 iMac proves that beauty needn't be merely skin-deep, and that all-in-one needn't mean conceding speed. That, and Apple's creative use of components and design, makes it our pick of the all-in-ones." – Full review
So there you have it. It looks like Apple's iMac was well worth the wait. Its new form factor, coupled with its stunning new display, super speedy Fusion Drive, and faster processors, make it a significant improvement over its predecessor, and the best all-in-one desktop in its class.
Have you ordered yours yet?