New & used Mac Pro deals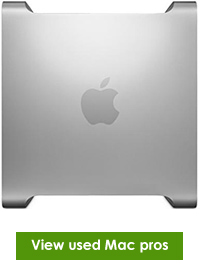 If you want some serious expandability and the most power you can get, you only really have one choice from Apple; the Mac Pro!
Make no mistake; the Mac Pro is very much not intended for the average consumer and the hint given by its "Pro" name is quite true. This is really built for serious use in a professional environment, be it audio, video or 3D design. For most people the Mac Pro has more power than necessary. The price tag, starting at £2041, also gives a good indication that this is intended for a different market.
You will have the Mac Pro for a good number of years longer than any other Mac, simply because you can expand it with more hard drives and RAM than any other currently available machine. It's really easy to open and work with the insides, and you can swap out almost all the components, even the graphics card. One great feature of the Mac Pro is the large amount of ports, although there is still no Thunderbolt port yet – despite it being a feature of every other Mac.
The Mac Pro is quite an expensive piece of kit and most likely beyond the price range a lot of people have in mind. Compared to the iMac you only get the actual computer itself and no screen, which adds further to the cost. The Mac Pro line is also not updated as often as the rest of the Macs, and the basic design has been the same since 2003!
If you aren't worried about expandability, the 27-inch iMac might be better value for your money and the performance shouldn't be significantly inferior. Or, if portability is desirable there's also the MacBook Pro line.
New Mac Pro deals
Besides directly from Apple, you can also buy the Mac Pro from Misco and a number of smaller independent resellers via eBay and the Amazon Marketplace.
Used Mac Pros for sale
As you can see from the prices above, buying a brand new Mac Pro is an expensive business. But if you don't need the very latest model then why not consider a second hand one? The best place to pick up a used Mac Pro is eBay, where, providing you avoid sellers with negative feedback and use PayPal to pay for the item, you shouldn't have anything to worry about. One thing you absolutely do need to check before bidding on a used Mac Pro is the shipping options – due its weight some sellers only allow collection, they don't offer delivery.